'The East' Trailer: 'Sound Of My Voice' Director Zal Batmanglij And Star Brit Marling Explore Another Shadowy Group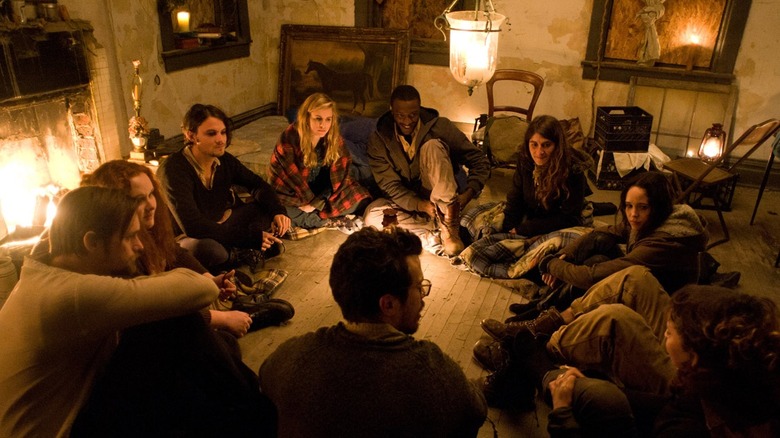 The Sundance Film Festival has treated Brit Marling exceptionally well over the past few years. She was the big breakout story of the 2011 event, with the one-two punch of Mike Cahill's Another Earth and Zal Batmanglij's The Sound of My Voice, and she got to return in 2012 with Nicholas Jarecki's Arbitrage. This year, she's back once again with Batmanglij for The East, a thriller about a shadowy anarchist collective (called The East, hence the title) and a private intelligence operative (Marling) who goes undercover to stop it. The first trailer has just hit the web, and you can watch it after the jump.
Yes, that's Ellen Page voicing those menacing threats. The cold edge in her tone may come as a surprise if you know her primarily as the lovable, whip-smart lead of Juno, but those who've seen her in Hard Candy should be well aware of just how intimidating this sweet-faced actress can be. In The East, she plays a member of the group and the ex-girlfriend of its charismatic leader Benji (Alexander Skarsgård) — who just so happens to have attracted the romantic interest of Marling's undercover agent. Uh-oh.
We haven't seen too many reviews for The East yet, but the few that have come out so far seem mostly positive. The Playlist calls it "stylish and sincere," while HitFix praised Batmanglij's "serious directorial chops" even as the reviewer admitted to not being able to take it too seriously. Look for more reactions (including our own) to emerge in the coming days.
Fox Searchlight hasn't set a release date for The East just yet, but expect to see it in theaters sometime this year.
In THE EAST, Sarah Moss (Marling) is a brilliant operative for an elite private intelligence firm whose top objective is to ruthlessly protect the interests of their A-list corporate clientele. She is assigned to go undercover to infiltrate an anarchist collective known for executing covert attacks upon major corporations. Living amongst them in an effort to get closer to their members, Sarah finds herself unexpectedly torn between two worlds as she starts to fall in love with the group's charismatic leader, finding her life and her priorities irrevocably changed.