Update: Drew Struzan Has NOT Been Asked To Do Posters For New 'Star Wars' Movies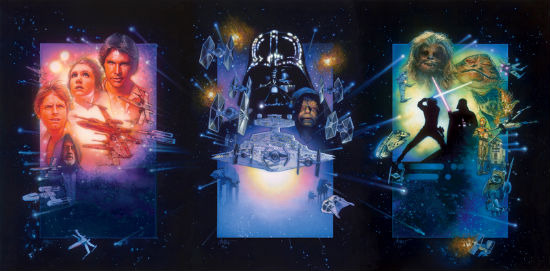 Update from Editor Peter Sciretta: Poster artist master himself Drew Struzan is now claiming his comments were "misunderstood".   Read Drew's statement after the jump.
Here is a statement from Drew:
Misunderstood... A couple of friends at Disney were fantasizing about the new STAR WARS movies. "Disney" has said nothing to me and I expect nothing. That a couple of friends were wishing is only an expression of the hope that many are sharing but says nothing regarding the Studio itself. Even if 'they' did ask, which Disney has not, I'd rather leave the new films to the next generation to interpret. I've had my time and they were exceptional blessings for which I will forever be grateful. Tomorrow is a new day...drew
Original story follows:
Several things are essential to a Star Wars movie. "A long time ago in a galaxy far, far away," an opening scroll, John Williams' score, lightsabers and Drew Struzan posters. We already know one thing associated with the franchise, the 20th Century Fox fanfare, won't be returning but we now know Disney is definitely trying to keep some of that continuity.
Drew Struzan, the legendary "retired" poster artist, recently revealed in an interview that Disney has approached him to do posters for the new Star Wars movies. That doesn't guarantee that he'll do it, but it's a hint that Disney is really trying to stick to the franchise's traditions. Read more after the jump.
The interview came from Fanhattan (via Ain't It Cool News). Here's Struzan's quote:
I got a couple calls already this week on Star Wars from Disney. Oh my god, I'm trying to be retired! You know, I spent 35 years painting Star Wars. [laughs] I painted Star Wars before most of you were born! But I guess there is always a chance. There's no intention. But I would love to have a day off every now and again, and I have to work a weekend and all through the night. If the opportunity arises, it will be a real temptation. But it's going to have to be a real temptation to get me away from my wife and my little grandkids and my family. Away from the green trees and the blue skies for a change instead of just locked in the studio. But, you know, never say never. All things are possible.
That certainly makes it sound like he's interested, does it not? Do you think a Star Wars movie can be a Star Wars movie without Drew Struzan?