'Sin City: A Dame To Kill For': Bruce Willis Confirmed To Return, Details Emerge On Joseph Gordon-Levitt's Character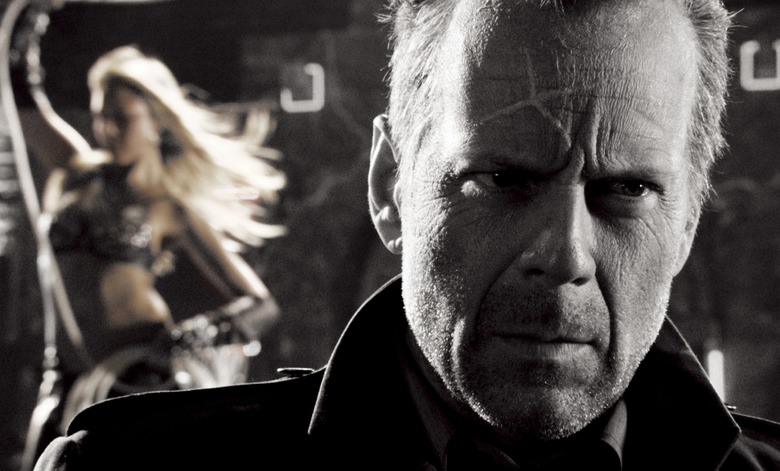 Sin City: A Dame to Kill For is well into the production process by this point, but details on casting and plot are continuing to emerge. During a recent interview at Sundance, director Robert Rodriguez confirmed that Bruce Willis would be returning to reprise the role of Hartigan, as has been rumored for some time now. In addition, he spilled a few more details on Joseph Gordon-Levitt's character and the kind of trouble he gets up to in the new film. Hit the jump for more.
Earlier this month, we heard that one of those stories would center around Gordon-Levitt's character Johnny, described as "a cocky gambler who disguises a darker mission to destroy his most foul enemy at his best game." Rodriguez supplemented that info with a few more details of his own:
He plays a gambler, a very cocky gambler who comes in and tries to beat the biggest villian in Sin City at his own game. The story is called The Long Bad Night. He beats the wrong guy in the game. Bad stuff happens to him. Bad stuff.
While Gordon-Levitt's character is a new one who wasn't in the last film, A Dame to Kill For also involves several characters who were. Mickey Rourke, Jessica Alba, Rosario Dawson, and Jamie King are set to reprise their roles, while Jamie Chung, Dennis Haysbert, and Josh Brolin are all stepping into parts played by other actors in the last film.
Rodriguez revealed that we can also expect an appearance from Bruce Willis, who played heroic cop Hartigan in the 2005 film. "Bruce is back, so you'll be seeing him," he confirmed. Understandably, however, he was reluctant to give away too many details. "I want to leave some surprises," he said. The casting makes A Dame to Kill For Willis' fourth movie (and fourth movie sequel) of 2013, after A Good Day to Die Hard, G.I. Joe: Retaliation, and Red 2.
Also starring Christopher Meloni, Ray Liotta, Jeremy Piven, and Juno Temple, Sin City: A Dame to Kill For opens in 3D October 4. Watch Rodriguez's interview with MTV below.