Sundance Reactions: Jerusha Hess' 'Austenland' And John Krokidas' 'Kill Your Darlings'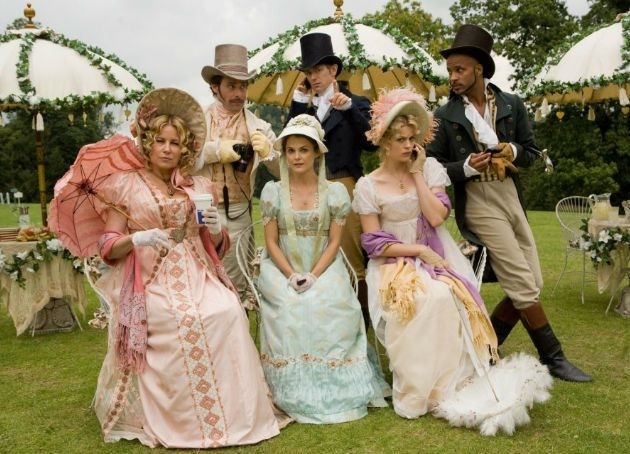 Friday is the first real day of the 2013 Sundance Film Festival and I spent the afternoon in the Eccles Theater (aka the Park City High School auditorium) watching two films: Jerusha Hess' adaptation of Austenland starring Keri Russell, and Kill Your Darlings starring Daniel Radcliffe as Alan Ginsberg. After the jump you can find my mini reactions and a video blog I recorded with Steve Weintraub from Collider.
First up is Austenland, the feature film debut from Jerusha Hess, the wife and producing/writing partner of Jarred Hess (Napoleon Dynamite, Nacho Libre). The comedy stars Keri Russell as Jane, a lonely 30-something Jane Austen fanatic who books a vacation at a resort promising a full Jane Austen novel experience, complete with period setting, actors playing characters and a "happily ever after" romantic climax. The setting and premise provide some fun moments but overall the story feels predictable (as it takes its cues from Austen's stories) and has a late third act Hollywood-style romantic comedy twist that you'll likely see coming very early on. The movie has a nice comic punch at the end and a fun end credit sequence that you'll want to stick around for.
Next up was Kill Your Darlings, the fascinating true life story of poet Alan Ginsberg's involvement in murder during his early college years. At the center of Darlings are amazing performances across the board, including Daniel Radcliffe (who plays Ginsberg), Chronicle's Dane DeHaan, Ben Foster, a refreshing and transformative performance from Michael C. Hall, and supporting appearances from Jack Huston and Elizabeth Olsen. An excellent feature film debut by John Krokidas, who was previously at Sundnace with a short film years ago.
I recorded a video blog with Steve from Collider discussing the two films:
Austenland:
Kill Your Darlings: