'The Inevitable Defeat Of Mister And Pete' Review: Two American Idols And A Grammy Winner Bring Star Power To Kid Story [Sundance 2013]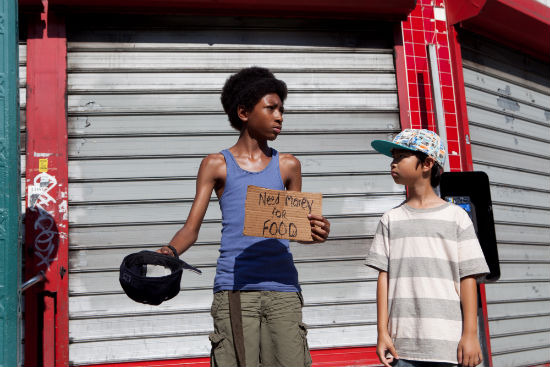 Produced by Grammy winner Alicia Keys and co-starring Oscar-winner Jennifer Hudson and American Idol Jordin Sparks, The Inevitable Defeat of Mister and Pete might sound like a kiddie movie. Quirky title, popular names, and two child leads make that assumption easy. But this one, written by Michael Starrbury and directed by George Tillman Jr. (Notorious, Faster), is anything but kids' stuff.
While the film dramatizes the ultimate childhood wish fulfillment, spending a summer without parental supervision, it does so with brutal honesty in the harsh realities of modern Brooklyn. Mister (Skylan Brooks) and Pete (Ethan Dizon), two young boys whose mothers are both MIA drug addicts, decide that living on their own and scavenging for food, medicine and soap, is better than being brought to a boys home.
The Inevitable Defeat of Mister and Pete features two beautiful lead performances and solid supporting turns by Hudson, Sparks, Anthony Mackie, Adewale Akinnuoye-Agbaje and Jeffrey Wright. It is an emotionally effective, if not particularly resonant addition to the 2013 Sundance Film Festival. Read more after the jump.
Mister just found out he's going to fail the 8th grade. His mother is addicted to drugs and they're out of food. There's also a small Korean boy named Pete in his bedroom. Unfortunately, this is as good as his summer is going to be. Once Mister's mom (Hudson) disappears, he and Pete begin a journey that will test the limts of what "independent" truly means.
Part of what makes The Inevitable Defeat of Mister and Pete so effective is it is practically devoid of hope. At seemingly every turn, just when something is about to go right for this unlikely duo, things go awry. Specific character traits –  Mister attempts to find solace in popular culture while Pete is just happy to have a friend  - help ground the characters in reality while simultaneously pushing them to new levels of despair. We can't help but want the best for these good kids whose failure feels inevitable.
And while the film's emotional arc works, the depths we feel for these characters never quite justifies the message we'll ultimately learn. We care more for them than what the film has to say about them. And that, in turn, makes leaving the theater a good, but slightly underwhelming experience.
The Inevitable Defeat of Mister and Pete is bound to turn some heads with its star making lead performances, familiar face and top-notch production. The totality just feels slightly unworthy of its parts.
/Film rating: 6.5 ouf of 10