'Fruitvale' Review: Mourning An Innocent Slain By Police [Sundance 2013]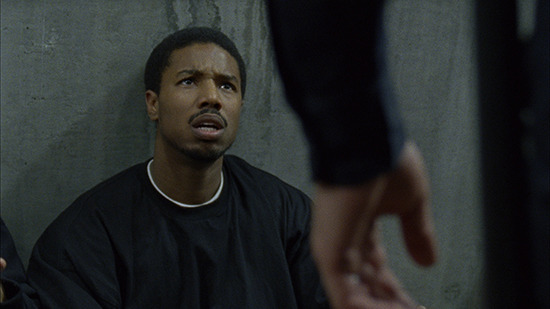 If a movie can be both gentle and scathing, Fruitvale is it. In this simple but stunningly effective film, first-time feature director Ryan Coogler responds to the shooting death of a 22-year old Oakland man at a BART station on New Year's Day 2009. The writer/director recreates the horrific action in a straightforward manner that is largely free of hyperbole and excess emotional manipulation. The climax of the film is one of the most powerful sequences you're likely to see on a movie screen this year.
Michael B. Jordan (The Wire, Friday Night Lights, Chronicle) plays Oscar Grant, a man trying to push away his troubled past to concentrate on building a respectable life with his girlfriend and daughter.
Here's the matter of public record that opens the film, and which acts as background to the concept: An altercation on a train after midnight put Grant and some of his friends in police custody in the BART station, and things got ugly very fast. A pushy officer punched and beat Grant. Soon after, while Grant was prone on his stomach, an officer drew his pistol and shot the young man in the back. Grant's detention by police and the shooting that followed was captured on video by several bystanders wielding cell phone cameras.
Coogler opens the film with that video, so audiences know exactly how the story ends. But then he winds back to twenty-four hours before the shooting, and we shadow Grant for the final day of his life. That might seem like a stock approach to manufacturing sympathy for the victim of a crime, but Coogler's script, sourced from interviews and depositions, is sensitive without being maudlin. It does present Grant's ambitions and his best qualities as a son and father. But the day opens with the revelation that he's cheated on his girlfriend. Later we learn that he has lied to her about another important subject. He's no saint, and the film never veers into hagiography.
As Grant, Jordan performs with an easy, assured momentum, painting a man susceptible to mercurial, even furious mood swings. He'll flip from familial to ferocious on a dime. In a flashback illustrating his 2007 incarceration in San Quentin, Jordan is having a good little moment with his mom, but he explodes in barely-controlled fury when another prisoner makes a rude comment in passing. The script feels honest as it depicts many sides of Grant's personality, and Jordan's performance ultimately leads us to focus on his ambitions and best qualities, rather than his failings.
If there's a misstep in the film, it is casting a recognizable actor as one of the primary officers involved in Grant's shooting. Since the film opens with the cell phone video of the real shooting, Coogler doesn't need to play coy about where the film is going, but the moment Kevin Durand steps on to the BART train in a police uniform, the tone of the film shifts just slightly to overtly menacing. Durand is too recognizable as a heavy to play into the film's otherwise well-manufactured verisimilitude. (Chad Michael Murray plays the other key cop, but blends better into the cast.)
Coogler does quickly reestablish the film's raw simplicity, and the power of the brutal shooting and its aftermath resounds. This movie gives a life and personality to a young man who might easily be dismissed as an assumed criminal or awful statistic. On a level that has nothing to do with activism, Fruitvale is a good film wrapped around excellent work from Jordan. As an actor he's is hardly unknown, but this is exactly the sort of breakthrough appearance we hope to find at Sundance. I can't imagine an audience emerging from this film unmoved by his performance.
/Film Score: 8.5 out of 10
(Fruitvale won the Grand Jury Prize in the Dramatic competition at Sundance this year, and also took the Audience Award in the US Dramatic category.)