Paramount And Bad Robot Turning Lance Armstrong's Doping Scandal Into A Movie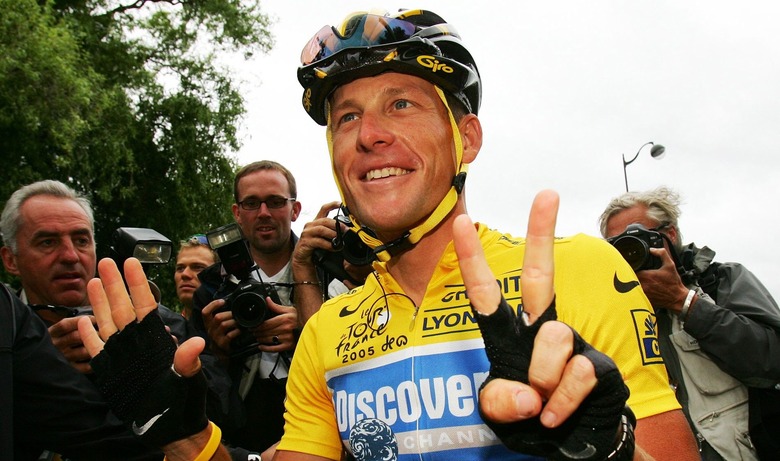 Before the doping scandal, Lance Armstrong's career seemed like one of the most inspiring stories in all of sports history. Now that he's finally confessed to his cheating after years of denial, his biography still makes for a pretty great tale — it just isn't an especially uplifting one.
Paramount and J.J. Abrams' Bad Robot have noticed the dramatic potential in this new version of events, and are eagerly preparing to bring it to the big screen. The companies have just closed a deal for the screen rights to Cycle of Lies: The Fall of Lance Armstrong, an upcoming biography by Juliet Marcur. More details after the jump.
This isn't the first attempt to bring the Armstrong story to the screen in recent years. Not too long ago, Frank Marshall and Gary Ross were working on a movie that would've starred Jake Gyllenhaal. Though some rumors about Armstrong's drug use were in circulation by then, the film was to focus on the earlier part of Armstrong's career before those allegations gained steam. However, that project was scrapped when Armstrong's story morphed from a heroic journey to a fall from grace.
What makes Paramount and Bad Robot's version notable, as Deadline notes, is that it seems to be the first attempt to chronicle Amrstrong's descent from feted cycling star to confirmed cheater. Abrams and Bad Robot's Bryan Burk will produce, but no director, writer, or star is attached at this time.
Discuss: Personally, I prefer the stories of epic falls over inspirational fables, but maybe that just makes me a cold-hearted cynic. Which version of the Armstrong tale do you prefer? (As an arc for a narrative feature, I mean, not as a real-life athletic career.) Or are you just tired of hearing about it already?