Oscar-Nominated Short Films Hit Theaters February 1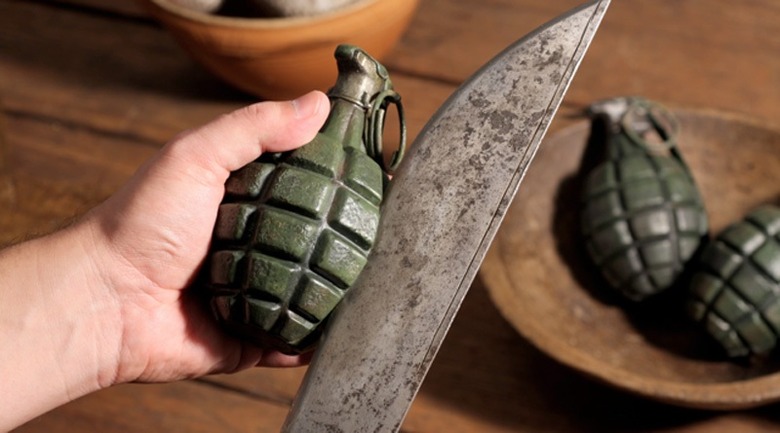 By the time most movies get nominated by the Academy, they've already been watched and discussed at length by the mainstream moviegoing public. In the shorts categories, however, that's not always the case. So for the past several years, it's been awards season tradition for the year's Oscar-nominated short films to hit the cinema during the run-up to the ceremony.
This year, Magnolia and Shorts HD are joining forces to put these movies in theaters starting February 1. Hit the jump to read more details and watch a trailer.
The programs are divided into three categories, each of which will be hosted by a past winner. Bill Joyce and Brandon Oldenburg (2011's "The Fantastic Flying Bloks of Mr. Morris Lessmore") will introduce the live action films, Luke Matheny (2011's "God of Love") the animations, and Daniel Junge (2012's "Saving Face") the documentaries.
To find out more, check out the trailer and synopses below, and then head to TheOscarShorts.com for dates and locations. Academy Award winners will be announced February 24.
ANIMATION
[via Thompson on Hollywood]
Adam & Dog – (director: Minkyu Lee, USA) The story about the dog of Eden. What happened in those first days of Creation that made Man and Dog so inseparable? The dog, as he lives through this curious world, encounters a strange creature; a human being named Adam – and with that discovers a new found connection to the world.
Fresh Guacamole – (director: PES, USA) Learn how to transform familiar objects into Fresh Guacamole!
Head Over Heels – (director: Timothy Reckart, UK) After many years of marriage, Walter and Madge have grown apart: he lives on the floor and she lives on the ceiling. When Walter discovers a long-lost memento of their wedding day, he tries to reignite their old romance. But it brings their equilibrium crashing down, and the couple that can't agree which way is up must find a way to put their marriage back together.
Maggie Simpson in 'The Longest Daycare' (director: David Silverman, USA) Maggie Simpson spends a day at the Ayn Rand Daycare Center where she is diagnosed at an average intelligence level. Longing to be grouped with the gifted children, Maggie finds her destiny by rescuing a lonely cocoon from Baby Gerald, who is busy smooshing butterflies.
Paperman – (director: John Kahrs, USA) Paperman follows the story of a lonely young man in mid-century New York City, whose destiny takes an unexpected turn after a chance meeting with a beautiful woman on his morning commute. Convinced the girl of his dreams is gone forever, he gets a second chance when he spots her in a skyscraper window across the avenue from his office. With only his heart, imagination and a stack of papers to get her attention, his efforts are no match for what the fates have in store for him.
LIVE ACTION
Asad – (director: Bryan Buckley, South Africa) Set in a war-torn fishing village in Somalia, an all Somali refugee cast brings to life this coming of age fable of a Somali boy who is faced with falling into the pirate life, or rising above to choose the path of an honest fishing man.
Buzkashi Boys – (director: Sam French, Afghanistan) Set against the dramatic landscape of contemporary Afghanistan and the national sport of Buzkashi – a brutal game of horse polo played with a dead goat – Buzkashi Boys tells the coming of age story of two best friends, a charismatic street urchin and a defiant blacksmith's son, who struggle to realize their dreams as they make their way to manhood in one of the most war-torn countries on Earth.
Curfew – (director: Shawn Christensen, USA) At the lowest point of his life, Richie gets a call from his estranged sister, asking him to look after his nine-year old niece, Sophia, for the evening.
Death of a Shadow – (director: Tom Van Avermaet, France and Belgium) Soldier Nathan died during World War I. A strange collector imprisoned his shadow and gave him a new chance: a second life against 10,000 captured shadows. It is love that guides him, as his purpose is to meet Sarah again, the woman he fell in love with before he died. But then he discovers that she's already in love with someone else, jealousy clouds his mind and pushes him towards a bitter decision, not without consequences.
Henry – (director: Yan England, Canada) Henry, a great concert pianist, has his life thrown in turmoil the day the love of this life, Maria, disappears mysteriously. He'll then discover the inevitable verdict of life.
DOCUMENTARY
Inocente – (directors: Sean Fine and Andrea Nix, USA) An intensely personal and vibrant coming of age documentary about a young artist's fierce determination to never surrender to the bleakness of her surroundings. At 15, Inocente refuses to let her dream of becoming an artist be caged by her life as an undocumented immigrant forced to live homeless for the last nine years. Inocente is both a timeless story about the transformative power of art and a timely snapshot of the new face of homelessness in America — children.
King's Point – (director: Sari Gilman, USA) Kings Point tells the stories of five seniors living in a typical American retirement resort-men and women who came to Florida decades ago with their spouses by their sides and their health intact, and now find themselves grappling with love, loss and the universal desire for human connection.
Mondays at Racine – (director: Cynthia Wade, USA) Every third Monday of the month, in brassy Long Island, sisters Cynthia and Rachel open up their hair salon, called Racine, and offer free beauty services for women undergoing chemotherapy. The sisters are determined to give women who are losing their hair, eyebrows and eyelashes a sense of normalcy and dignity in a traumatic and uncertain time. The story of what hair means in our culture quickly unfolds into an unexpected look at womanhood, marriage and survival.
Open Heart – (director: Keif Davidson, USA) Eight Rwandan children leave their families behind to embark on a life-or-death journey seeking high-risk heart surgery in Sudan. Their hearts ravaged by a treatable disease from childhood strep throat, the kids have only months to live. Open Heart reveals the intertwined endeavors of Dr. Emmanuel Rusingiza, Rwanda's lone government cardiologist, as he fights to save the lives of his young patients, and Dr. Gino Strada, the Salam Center's head surgeon who must convince Sudanese President Omar Al-Bashir's government to keep Africa's only link to life-saving cardiac surgery free of charge for the millions who need it.
Redemption – (directors: Jon Alpert & Matthew O'Neill, USA) In the documentary Redemption, filmmakers Jon Alpert & Matthew O'Neill closely follow this growing army of New Yorkers whose treasures are in the trash. The film is a chance to meet the marginalized masses we often rush past on our way to catch a bus or make a meeting. They are poor but proud New Yorkers – people who don't ask for a handout – people whose hands rake through the discards of our lives – building their lives one nickel at a time.