Mondo Does Steven Spielberg: New Posters For 'E.T. The Extra Terrestrial' And 'Jaws'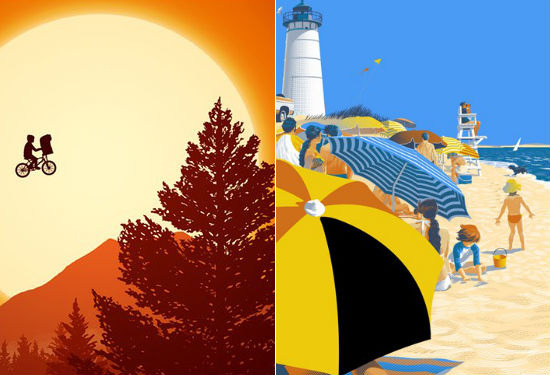 Over the summer, /Film was lucky enough to premiere a gorgeous Mondo poster for E.T. The Extra Terrestrial. It was their first poster for the magical film and only the fourth film of Steven Spielberg's to get the Mondo treatment, after Close Encounters of the Third Kind, Jurassic Park and a very old Jaws poster.
Two of those films are now getting their second poster from the company, and both images are stunners. Mike Mitchell, one of the most popular artists currently on the scene, did a poster for E.T. The Extra Terrestrial and Laurent Durieux, who is also on an absolute tear, took a very unique peak at Jaws. Check out both images below.
A huge thanks to Ain't It Cool News for theses images.
The E.T. is just incredibly iconic and, dare I say it, more striking than Dan McCarthy's beautiful image released over the summer. Durieux's is a lot different from the typical Jaws poster, but has a ton of thought put in it. Look at the shark fin on the umbrella, the raft, Brody's kids. Plus it has that whole "These beaches will be open" vacation feel which is nice and doesn't obviously scream "Jaws."
Mike Mitchell's ET is 36 x 24 in an edition of 475 and will cost $45. Laurent Durieux's Jaws is 24 X 36 in an edition of 525 and costs $60. Both go on sale Thursday at a random time by following @MondoNews.
Here's some background on the images from the Mondo Blog:
A little behind the scenes for you all... we've had the JAWS license for almost two years. We were very excited to get it, but then the realization set in that it would be tough to come close to the original as it's one of the best if not THE best theatrical poster ever made. JAWS is so iconic in every sense and it was VERY intimidating working on the title. Enter: Laurent Durieux. We are gigantic fans of him and were like kids at Christmas when we got this image in our inbox. The details in the poster are many and we think it conveys the "calm before the storm" very nicely. Without a doubt, Laurent is one of our favorite artists to work with and one of the most talented illustrators working today. You can see detail photos of JAWS over on our blog right HERE.
And to officially make tomorrow Steven Spielberg day, we have Mike Mitchell's great E.T. poster. This is the last E.T. poster we're going to make for a while and I'm glad we're ending on a good note. This poster is so warm and just makes me feel good when I look at it. I'm so happy with both of the posters Mike and Laurent turned in. I hope you all enjoy them, too.