'Star Wars Episode I: The Phantom Menace' Score Getting A Vinyl Release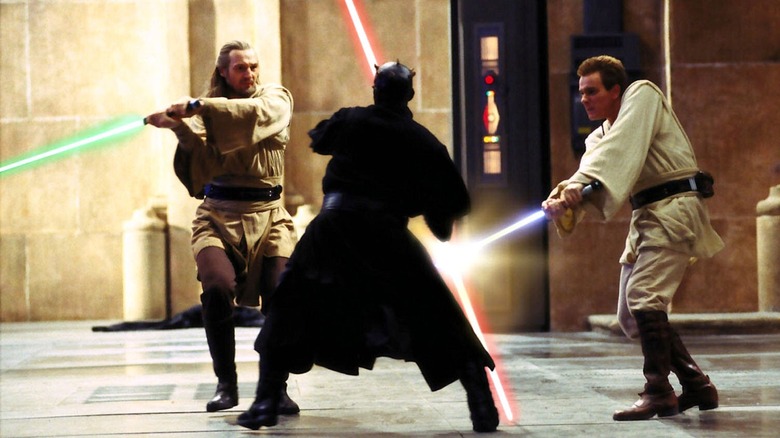 Say what you want about Star Wars Episode I: The Phantom Menace as an overall film, but John Williams' score is fantastic. Duel of the Fates is one of the most exhilarating pieces of music in the entire Star Wars series; Anakin's Theme is beautifully weaved through the film; and The Flag Parade is an amazing build up to a huge action setpiece. The unfortunate side is that listening to the score could be a reminder that the film doesn't live up to the music.
If you can separate the two (which shouldn't be too difficult now, going on 15 years later) Williams' score is now being released as a limited edition vinyl on March 4. Check out the specs and a few images below.
Thanks to Soundtrack.net (via The Playlist) for the heads up on this.
For the very first time ever on limited edition vinyl, I Am Shark, will be releasing the original soundtrack to Star Wars: Episode I – The Phantom Menace, scored by legendary composer John Williams. This will be part one of three, continuing on the latest trilogy soundtracks, as well as I Am Shark's new face as an independent label for Film/TV/Game soundtracks.
The release will be in 2xLP format, with limited color versions coordinating with characters through out the movies. 50 limited bundle packages will be available with all colors/pressed versions, one random winner will receive a test press version of the album (only 10 test press copies exist).
Pressing Information - Limited Colors
2000 Hyperdrive (Black w/ White Splatter)
2000 Darth Maul (Black w/ Red/Gold stripe)
2000 Qui-Gon Jinn (Green / Brown Marble)
2000 Obi-Wan Kenobi (Blue)
Black / 180 Gram Versions will be constantly kept in stock and distributed to retail stores as well.
Here's a gallery of what those limited versions look like.
Here's the track listing as a refresher. Remember when this came out and was such a major spoiler? Ah, the good old days:
Star Wars Main Title and The Arrival at Naboo
Duel of the Fates
Anakin's Theme
Jar Jar's Introduction and The Swim to Otoh Gunga
The Sith Spacecraft and The Droid Battle
The Trip to the Naboo Temple and The Audience with Boss Nass
The Arrival at Tatooine and The Flag Parade
He Is the Chosen One
Anakin Defeats Sebulba
Passage Through the Planet Core
Watto's Deal and Kids at Play
Panaka and the Queen's Protectors
Queen Amidala and The Naboo Palace
The Droid Invasion and The Appearance of Darth Maul
Qui-Gon's Noble End
The High Council Meeting and Qui-Gon's Funeral
Augie's Great Municipal Band and End Credits