'Mud' Trailer: Matthew McConaughey Goes On The Run For 'Take Shelter' Director Jeff Nichols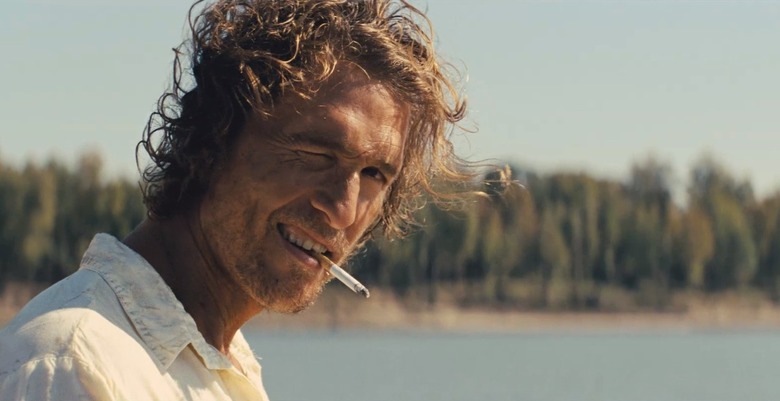 With the releases of Bernie, Magic Mike, and Killer Joe, 2012 may very well have been the best year of Matthew McConaughey's career. And don't expect to see that momentum flag in 2013. McConaughey is starting the year off with Mud, a coming-of-age tale directed by Jeff Nichols (Take Shelter).
The Tree of Life actor Tye Sheridan and newcomer Jacob Lofland play a pair of friends who come across a mysterious man named Mud (McConaughey) hiding out in the woods along the Mississippi. While he soon admits that he's on the run for killing a man, they're charmed by his romantic tales and agree to help him out. Their boyish adventure takes a sour turn, however, when Mud's real problems entangle them in some very adult complications. Watch the trailer after the jump.
The tale is a classically American one with echoes of Huckleberry Finn and Stand By Me, but familiar doesn't have to mean dull. When Mud hit the festival circuit last year, reviews heralded the 30something Nichols as the next great American auteur. And while it's no surprise at this point that McConaughey does some excellent work, the young Sheridan has also been drawing praise for his assured performance.
Mud lands in theaters April 26.
Synopsis:
Two boys, Ellis and his friend Neckbone, who find a man named Mud hiding out on an island in the Mississippi. Mud describes fantastic scenarios — he killed a man in Texas and vengeful bounty hunters are coming to get him. He says he is planning to meet and escape with the love of his life, Juniper, who is waiting for him in town. Skeptical but intrigued, Ellis and Neckbone agree to help him. It isn't long until Mud's visions come true and their small town is besieged by a beautiful girl with a line of bounty hunters in tow.