Russell Crowe Talks Up The "Supersonic" Superman In 'Man Of Steel'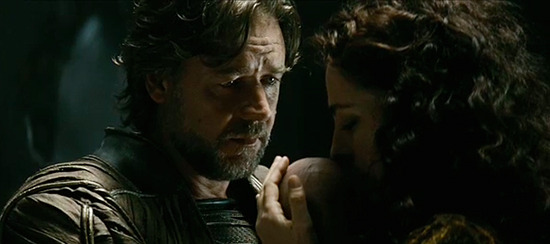 There's a lot we don't know about Man of Steel. Taking cues from producer Christopher Nolan, Zack Snyder and the team at Warner Bros. have kept details of the film hidden to the greatest degree possible. The teaser and trailer give us a few clues — this seems to be an action movie wrapped in a melancholy outer shell. But even with the glimpses of otherwordly images seen in the trailer, we have little real info to go on when it comes to plotting out the more remote locations visited in the film.
Now Russell Crowe, who plays Jor-El, the father of Superman (Henry Cavill) has given us a few interesting clues in a conversation about the film.
Crowe talked to Reelz about the film, and his most interesting comments were:
[Man of Steel is] a massive undertaking. It takes you on the ground to Krypton, it takes you to a planet where the sun is four times larger than ours and you get to experience that stuff and if you've seen the trailers you realize that this Superman is not just floating through the air held up by a wire, this Superman is super sonic.
He also explains part of the film's "modern" sensibility, which, in concert with the trailer, should help to clarify what Christopher Nolan meant all those months ago when he said that writer David Goyer had landed on a way to really ground the character in the present.
It's very complicated, it's really complex. I don't think anybody has really tried to get into the psychology of what it must be like to be Superman and what people would really respond like in a modern society if somebody like that just popped up.
Man of Steel opens on  June 14, with Amy Adams, Laurence Fishburne, Diane Lane, Kevin Costner, Michael Shannon, and Antje Traue.