First Look And Concept Art: Joon-Ho Bong's American Debut 'Snowpiercer'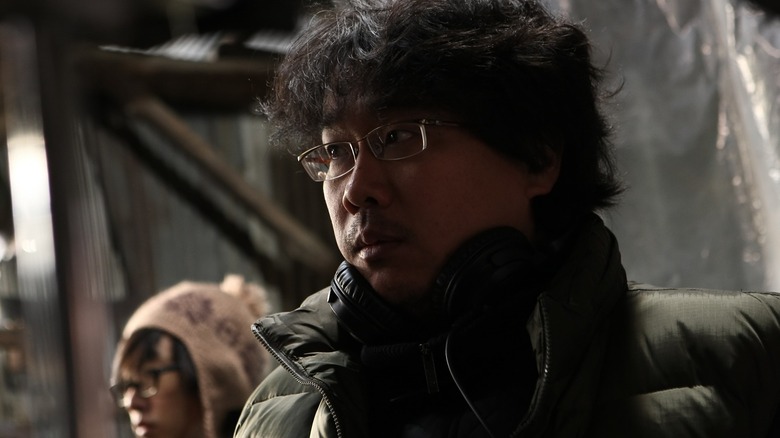 2013 is going to be a great year for American fans of Korean cinema. No fewer than three revered Korean filmmakers are making their English-language debuts in the coming months. Jee-woon Kim (I Saw the Devil) gets the party started with The Last Stand later this week, followed by Chan-wook Park (Oldboy) and his Stoker in March. And then, sometime this summer, Joon-ho Bong's Snowpiercer will ride into theaters.
Bong's collected a truly impressive cast for his first American movie, including Chris Evans, Octavia Spencer, Tilda Swinton, Jamie Bell, Ewen Bremner, Alison Pill, John Hurt, and Ed Harris, but it's his old favorite Kang-ho Song (The Host) that appears in the first still. See it, along with some more concept art, after the jump.
[Korea Film Archive and Pop Movies via The Film Stage]
Based on the French graphic novel Le Transperceneige, Snowpiercer takes place in a chilly post-apocalyptic universe inhabited only by a train full of human survivors. The passengers have established a new class order, but increasing tension between the social strata threatens to explode into full-blown revolution. We've previously heard that Bremner joins the movement to save his son, so I'm wondering if that's the kidnapped boy we see in the still above.
Meanwhile, the concept art shows off some of the world's snowy scenery as well as what appears to be the rich-people area of the train. Those luxurious indoor pools (if that's what they are) make for a very sharp contrast from the crowded barracks we saw in the last batch of art. No wonder the have-nots are pissed off.
The Weinstein Co. will open Snowpiercer later this year.
Synopsis:
Snowpiercer is set in a future where, after a failed experiment to stop global warming, an Ice Age kills off all life on the planet except for the inhabitants of the Snowpiercer, a train that travels around the globe and is powered by a sacred perpetual-motion engine. A class system evolves on the train but a revolution brews.