Sequel Bits: 'Jack Reacher' Needs Asian Coin To Buy A Sequel, Plus Possible Dan Brown Movies, 'G.I. Joe: Retaliation,' 'Twins 2'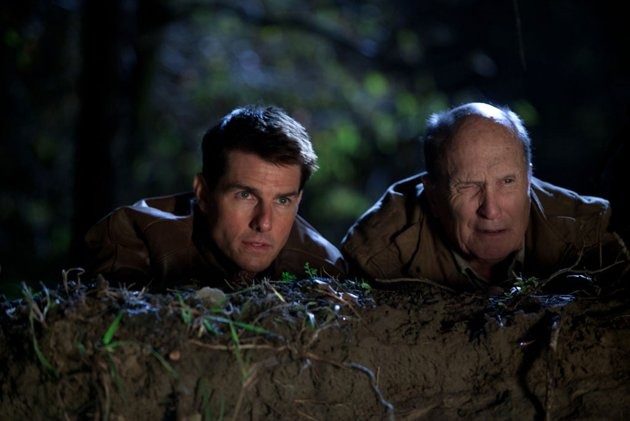 When Christopher McQuarrie was set to direct One Shot, which eventually became Jack Reacher starring Tom Cruise, the idea was to launch a franchise based on the dozen-plus Reacher books by Lee Child. Turns out that Jack Reacher may be the character's one shot at the big screen, at least in this incarnation.
The movie wasn't all that expensive, at only $60m, but THR reports that Pararmount doesn't consider the $153m combined worldwide gross to be impetus enough to make another one. But the film hasn't yet opened in Japan, China, and Korea, and so there's a chance that it could still rake in enough to make the $250m the studio would consider to be justification for a sequel. Even if it does hit the financial goal, Paramount and David Ellison's Skydance Productions will have to negotiate a deal to bring Cruise back, and keep the next film moving at roughly the same cost of the first.
After the break ,
A new Dan Brown book brings up talk of The Lost Symbol,
a new G.I. Joe: Retaliation trailer is all action,
and Arnold Schwarzenegger hand-writes a Twins II / Triplets update.
Although I studied 'Dante's Inferno' as a student, it wasn't until recently, while researching in Florence, that I came to appreciate the enduring influence of Dante's work on the modern world. With this new novel, I am excited to take readers on a journey deep into this mysterious realm ... a landscape of codes, symbols, and more than a few secret passageways.
We don't know what the status of Inferno might be — the book doesn't even hit until May, and presumably any movie deal he could have already brokered would be announced closer to that — there's also the question of Brown's last novel, The Lost Symbol.
That one was being developed at Imagine Entertainment, with Ron Howard moving away from directing it and Danny Strong (Game Change) adapting the script in his wake for Mark Romanek to potentially direct. (Given Romanek's tendency to fall away from big-ticket gigs like this, I can't really see him ever making the movie.)
The LA Times reports that Romanek remains attached, however, and is waiting on Strong's draft. Tom Hanks could once again play Langdon, but his schedule is uncertain, and until there's a script to consider shooting, his participation isn't likely to be locked.
Here's the latest G.I. Joe: Retaliation trailer. It comes from Japan and is nearly 100% action. Which, given that we're really interested in the film only for action, is probably as good a sales pitch as possible. It also has a wonderful voiceover.
G.I. Joe: Retaliation hits on March 29 with Dwayne Johnson, Ray Park, Adrianne Palicki and Bruce Willis.  Lee Byung-hun, Channing Tatum, RZA, Elodie Yung, Walton Goggins and Ray Stevenson.
A follow-up to the 2009 release of G.I. JOE: THE RISE OF COBRA, which grossed over $300M worldwide, Paramount Pictures, MGM and Skydance Productions, in association with HASBRO and di Bonaventura Pictures, commences production on G.I. JOE: RETALIATION. In this sequel, the G.I. Joes are not only fighting their mortal enemy Cobra; they are forced to contend with threats from within the government that jeopardize their very existence. The film stars D.J. Cotrona, Byung-hun Lee, Ray Park, Adrianne Palicki, Jonathan Pryce, RZA, Ray Stevenson, Channing Tatum with Bruce Willis and Dwayne Johnson. Directed by Jon M. Chu, and produced by Lorenzo di Bonaventura and Brian Goldner, from a screenplay by Rhett Reese & Paul Wernick based on Hasbro's G.I. Joe(R) characters.
Finally, here's Arnold Schwarzenegger insisting that Twins II will still happen with Danny DeVito and Eddie Murphy. This hand-written message from Arnie was posted in his AMA today on Reddit: