Soundtracks: Listen To A Clint Mansell Track From 'Stoker,' Watch Members Of M83 Perform A Drum Battle For 'Oblivion' Score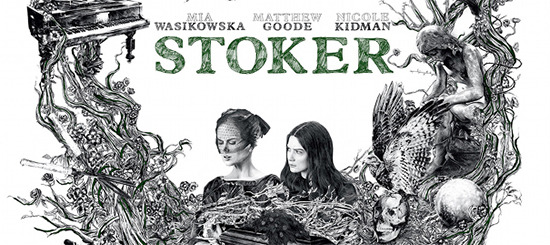 Oldboy director Park Chan-Wook makes his English-language debut with the thriller Stoker, featuring Nicole Kidman, Matthew Goode, and Mia Wasikowska. The Hitchcockian film seems to illustrated a creepy triangle of infatuation and manipulation that develops in the Stoker family when a mother (Kidman) and daughter (Wasikowska) are caught in the thrall of Uncle Charlie (Goode), who arrives in town in the wake of the death of his brother, the Stoker patriarch.
Trailers for the film have looked good, and now we've got a full track excerpted from the score. Clint Mansellcreated the music for the film, and you'll recognize his sound right away. Hear that track after the break, followed by a video of M83 recording a back and forth drum battle that will be part of the score for an action scene in Oblivion.
Here's the Stoker sample, a track called 'In Full Bloom,' from Milan Records, via /Film reader Josh. The score also features music from Emily Wells and Philip Glass, and hits stores February 26. I'll be seeing Stoker in less than a week at Sundance, and so we'll have a report on the film as soon as possible.
And then there's this video from M83, showing band members Loic Maurin and Ilan Rubin facing off on dual drum kits as they play along to an orchestrated score track for Joseph Kosinski's film Oblivion.
Kosinski chose Daft Punk to score his previous film, Tron Legacy, and followed up that choice by hiring M83 to score the Tom Cruise sci-fi thriller Oblivion. On the YouTube page for the video, posted by the band, there's only a note saying "drum battle for an Oblivion action scene." You can hear a bit of the full track playing in the studio behind the drummers; presumably that is also the band's work.
Kosinksi told Collider about choosing M83 for the score:
No I had been thinking about M83. I went back and I found my first treatment for Oblivion from 2005 and it had listed in the treatment a soundtrack of M83, Boards of Canada; they were listed back then when they had only done an album or two. So I always felt like Anthony's music was suited to this story from its very inception. So when it came time to putting this film together, obviously the Tron: Legacy collaboration with Daft Punk worked out as good as I would have ever hoped, I wanted to do something similar in that I'm pulling an artist from outside the movie business to create an original sound for this film. But I didn't want it to be—Daft Punk's music wouldn't make sense for this movie. It had to be an artist whose music fit the themes and story I was trying to tell. And M83's music I felt was fresh and original, and big and epic, but at the same time emotional and this is a very emotional film and it felt like a good fit. So I talked to him very early and he was finishing up his latest album at the time and I am so excited. I brought in Joe Trapanese, the orchestrator from Tron: Legacy is now the orchestrator on this so it's very similar arrangement of talent. I'm as excited about what we're doing musically for this film as I was for Tron.
Kosinski also talked about the tone of the score, which he likens to the work Daft Punk did for Tron Legacy:
I'm not sure what the count is, but it's a lot of music. There's a lot of music in the movie. It's probably eighty percent scored. I would say the same thing I said for the Daft Punk tracks, some stuff feels like Daft and some stuff you would never guess Daft would do. Some of my favorite tracks from Legacy were tracks that you would never guess in a million years were Daft Punk and I think the same goes for this. Some of the stuff you're going to hear the M83 in its full glory, screaming out, but at other times it serves the movie as a score should it's under the surface.