First Look: Philip Seymour Hoffman In 'The Hunger Games: Catching Fire'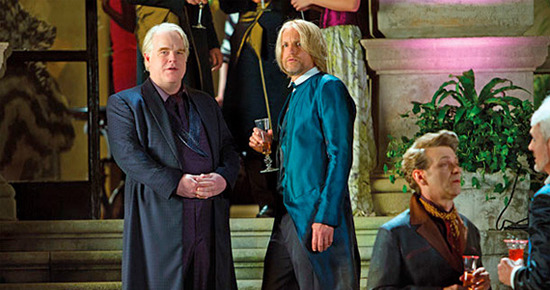 The first set of official pics from The Hunger Games: Catching Fire hit yesterday, showing characters such as returning heroine Katniss Everdeen (Jennifer Lawrence) and new hero Finnick Odair (Sam Claflin).
Now we've got a second batch that shows off some of the new and returning supporting cast. There's Donald Sutherland as President Snow, Woody Harrelson as Haymitch Abernathy, and Paula Malcomson and Willow Shields as Mrs. Everdeen and the younger Primrose. Then there's the first official look at Philip Seymour Hoffman as Plutarch Heavensbee. See them all below. 
EW has the images, and reveals that three characters didn't make the transition from novel to screen: (swipe to reveal) Bonnie, Twill, and Darius.
Producer Nina Jacobson spoke in general terms about the necessity of cutting aspects of the novel:
It's as agonizing for us to lose things from the book as it is for a fan. I want every single thing in there. But you know what? If you have to give up something in order to give more time to Katniss and Gale or to Effie as she starts to feel a conscience, you make the sacrifices in order to serve the characters and themes that are more essential.
The Hunger Games: Catching Fire opens on November 22. [via Bleeding Cool]