Steven Spielberg's 'Robopocalypse' Indefinitely Postponed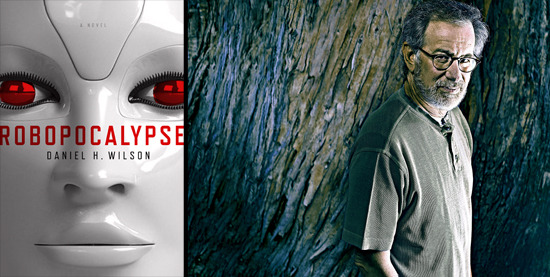 Seems like we won't be getting that new Steven Spielberg sci-fi film as soon as originally planned. Robopocalypse, based on the best-selling book by Daniel H. Wilson, had already been delayed several months from a 2013 release date to 2014 and now DreamWorks has "indefinitely postponed" the film. Read more after the jump.
The Hollywood Reporter broke the disappointing news. Here's the statement from a representative of the director:
[The project is] too important and the script is not ready, and it's too expensive to produce. It's back to the drawing board to see what is possible.
Robopocalypse was schedule to star Chris Hemsworth, Anne Hathaway and Ben Whishaw. It was being adapted by Drew Goddard, who did The Cabin in the Woods.
Here's the plot description:
Not far into our future, the dazzling technology that runs our world turns against us. Controlled by a childlike—yet massively powerful—artificial intelligence known as Archos, the global network of machines on which our world has grown dependent suddenly becomes an implacable, deadly foe. At Zero Hour—the moment the robots attack—the human race is almost annihilated, but as its scattered remnants regroup, humanity for the first time unites in a determined effort to fight back. This is the oral history of that conflict, told by an international cast of survivors who experienced this long and bloody confrontation with the machines. Brilliantly conceived and amazingly detailed, Robopocalypse is an action-packed epic with chilling implications about the real technology that surrounds us.
If Goddard's script wasn't ready, this is probably for the best. There's no pressing desire for this film other than to see another movie from Spielberg. Lincoln took decades to get right, after all. It'll be interesting to see if he continues to develop this film or moves onto something else.
Are you surprised that Robopocalypse has been postponed?