Charlize Theron May Sign On For Paul Thomas Anderson's 'Inherent Vice' Alongside Robert Downey, Jr.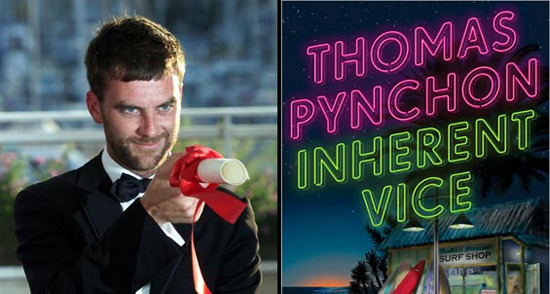 Thomas Pynchon fans have reason to celebrate this year. The reclusive author (is Pynchon's name ever mentioned without the word "reclusive"?) has announced the imminent publication of a new novel, for one. And his previous novel, Inherent Vice, is the subject of an adaptation effort by none less than Paul Thomas Anderson.
Pynchon's novels have never yet been the basis for a major film, though his influence has been felt in small ways in more than a few movies in the past. Inherent Vice will be the first major film based on a Pynchon novel, and it benefits from quite a creative team. Anderson is writing, possibly with the help of Pynchon himself, and Robert Downey Jr. has long been in place as the likely choice to play the central character, burnout detective "Doc" Sportello.
And now Charlize Theron is reported as a likely addition as well.
Roger Friedman reports that in addition to Downey's continued attachment, Theron is looking like she'll sign on, too. Who will she play?
Friedman doesn't specify the potential role for Theron, but there are two obvious possibilities. The novel's plot involves Shasta Fay Hepworth, former girlfriend of Sportello, who is now dallying with a big-name real estate mogul. She brings Doc into the story, thanks to her concern over plans that the real estate guy's wife has hatched with her own lover.
With all that explained (sort of), Theron could be set to play Shasta, but in reality I'd expect to see her as the real estate mogul's wife, Sloan. That character is pretty much tailor made for Theron.
There are a couple other big female roles in the story, too, but most are too young to make any sense for the actress. Granted, the novel is typically knotted and twisty, in Pynchon's trademark style, and so quite a bit of simplification is to be expected. Even Anderson, who has made his own famously knotted and complex films such as Boogie Nights and Magnolia, will probably have to cut and tweak Pynchon's story to get it on the screen.
Here's Pynchon's own introduction to the novel, originally broadcast a few years ago: