WTF: 'Anchorman 2' Set Damaged By Wire Thieves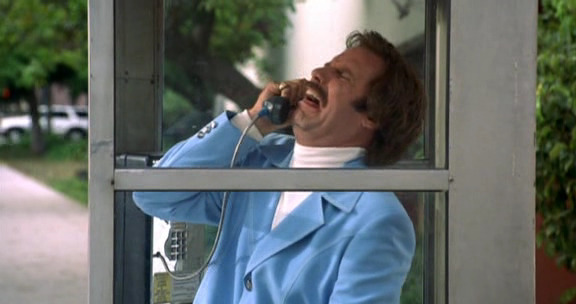 If we end up seeing a news report in Anchorman 2 about the damage done by metal thieves, this is the backstory.
Anyone who deals with slow-moving real estate or commercial property repairs knows that buildings can be big targets for thieves. Copper wire is very valuable, and since the economic downturn of '08 empty homes, big commercial spaces and even civic infrastructure have frequently been targeted by thieves looking to grab wire or anything that could contain large quantities of the metal, such as air conditioning units. One organization estimates that annual damages from the crimes reach to $1 billion. In Atlanta, for example, phone, internet, and other services were knocked out to users in October of last year when a crew stole wire right off of utility poles.
The strangest victim of wire theft in recent days is the set of Anchorman 2. In late December what is believed to be a crew of several perpetrators broke into the Atlanta-area warehouse where the film is being prepped, and ripped away loads of wire — almost $300,000 worth. 
The Atlanta Journal-Constitution reports that "The thieves apparently entered through a rear garage door, then used a winch from inside the building to pull wire out of the walls." A $5000 reward is being offered. Reports that the thieves broke into the warehouse seeking comedy gold are unverified. Four computers were also stolen.
We can hope that the Anchorman team is able to get some benefit out of this lousy situation by writing material based on it for the film — Ron Burgundy's wrongheaded take on a score like this is easy to imagine.