Watch A Clip From Pixar's Photorealistic New Short 'The Blue Umbrella'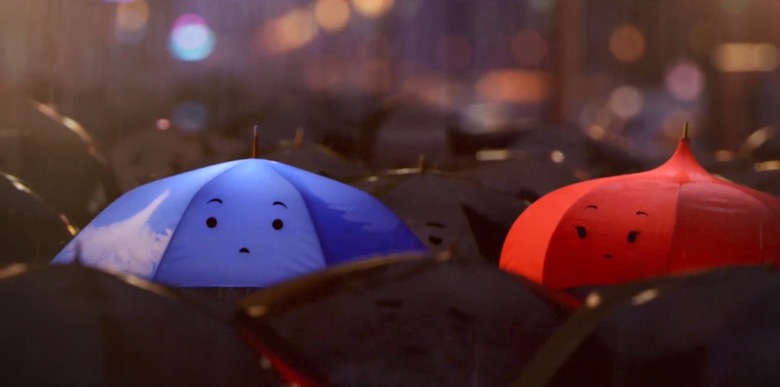 One of the reliable highlights of any Pixar release is the short film that plays in front of each feature. Not only are they invariably sweet, funny, and inventive, they're often a great way to check out the studio's rising talents. When Monsters University opens this summer, we'll be seeing the Pixar directorial debut of technical artist Saschka Unseld, who helmed the six-minute short The Blue Umbrella.
While Pixar has a reputation for innovative, intricate animation, Unseld's piece pushes into a whole new direction with a startlingly photorealistic look. What hasn't changed, happily, is the studio's signature warmth and humor. The plot concerns two umbrellas that take a shining to each other one rainy day. Watch the first clip after the jump.
[via Bleeding Cool]
As indicated by the umbrellas' lively faces, "The Blue Umbrella" takes place in a whimsical world where "[g]utters grin, sewer drains smile and 'walk' signals spy." These inanimate objects do not, however, seem to talk, so helping to tell their romantic tale will be an original score by Jon Brion. (Although the studio has yet to confirm Brion's involvement, The Playlist broke the news a few months ago.)
Facial expressions aside, it's it's remarkable how much the clip above looks like live-action footage. That level of realism is new territory for Pixar, as chief creative officer John Lasseter points out. "We had never at Pixar attempted to produce images that looked absolutely photorealistic," he said. "We always took the tools that were capable of creating photorealistic imagery and created images the audience knew did not exist in the real world."
"The Blue Umbrella" will debut with Monsters University on June 21. For a more in-depth look at the making of the film, check out the Rainy City Tales 332 Tumblr.