TV Bits: 'Community', 'The Office', 'Revolution', 'Mockingbird Lane', 'The Following', 'Magic City', 'Da Vinci's Demons', Sarah Michelle Gellar, Ricky Gervais, And More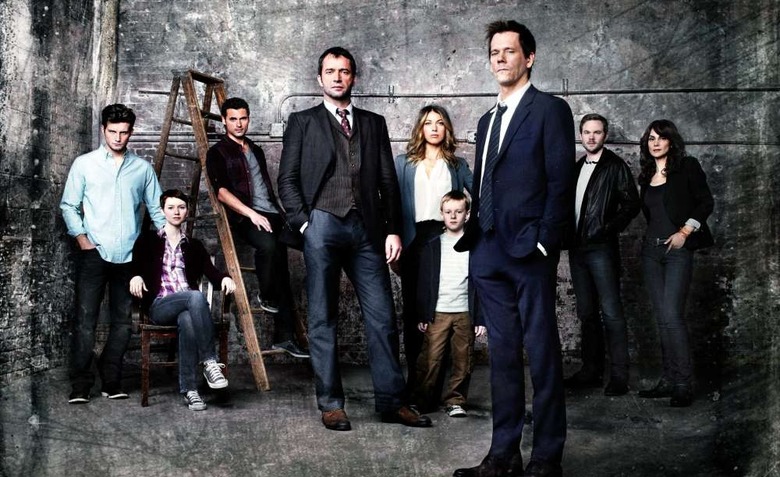 With the semi-annual Television Critics Association press tour in full swing, there's no shortage of TV news at the start of this week. After the jump:
Ryan Murphy's Normal Heart is coming to HBO
Ricky Gervais' Life's Too Short will end this season
Sarah Michelle Gellar is returning to TV with a comedy
NBC explains why it passed on Mockingbird Lane
Community's fourth season will have "more heart"
Up All Night loses its creator as it undergoes a revamp
Steve Carell will probably never return to The Office
Revolution's midseason premiere gets a new trailer
Watch a promo for Kevin Williamson's The Following
Starz offers trailers for Magic City and Da Vinci's Demons
While Stephen Merchant plugs away at his upcoming HBO series Hello Ladies, he's also preparing to say goodbye to his old HBO show Life's Too Short. The comedy series, which was co-created by Merchant, Ricky Gervais, and Warwick Davis, will close with a wrap-up special to air sometime this year. The show premiered on HBO last year with a seven-episode first season. [Variety]
Sarah Michelle Gellar's big TV comeback hasn't quite worked out as planned, what with Ringer getting cancelled after just one season, but she's ready to try again. Gellar has attached herself to an untitled comedy series by Shepard Boucher (Men at Work), about parents who get up to trouble while their kids are at school. The series will be shopped to networks over the next few weeks. [TV Line]
We had such high hopes for Bryan Fuller's Mockingbird Lane, and they landed with such a thud when NBC decided not to move forward with the series after all. At a recent TCA panel, NBC chief Bob Greenblatt explained that decision:
We just decided that it didn't hold together well enough to yield a series. It looked beautiful and original and creative, but it just all ultimately didn't come together. [...] We felt great about that cast. But we tried to make it not just a sitcom. We tried to make it an hour, which ultimately has more dramatic weight than a half-hour. It's hard to calibrate how much weirdness vs. supernatural vs. family story. I just think we didn't get the mix right.
But that doesn't necessarily mean it's the end of the line for the lovable supernatural family. "I won't say we won't do another version of The Munsters again," he said. [Deadline]
Greenblatt also took the time to address troubled cult fave Community. Despite the many, many blows it's suffered over the past year, he says there's "absolutely" a chance the show could get renewed for Season 5. "I'm always hopeful for a show to continue," he said. "We co-own it and I'd love nothing more than to see it continue."
The part about co-owning the series is important because by the end of Season 4, Community will have produced 84 episodes. Since the traditional threshold for syndication is 100 episodes, it could very well be in NBC's best interest to press forward even if the ratings for Season 4 aren't that good.
As for whether fans will even want another season without creator Dan Harmon, Greenblatt reassured attendees that the series hasn't changed too much under new showrunners Moses Port and David Guarascio. "I don't know that I'm the Community expert, but I think you're going to see relatively the same show that you have seen before," he said. "There is a little bit more heart built in to it, but we didn't fundamentally change it." Judge for yourself when Season 4 begins February 7. [THR]
Speaking of NBC staff shakeups: Up All Night creator Emily Spivey is exiting the single-camera comedy as it switches over to the multi-camera format. The news comes just weeks after showrunner Tucker Cawley was replaced by Linda Wallem. (Cawley was himself a replacement for original showrunner Jon Pollack, who left in May.) The series has been on hiatus since November to allow for the retooling. The season's last five episodes will begin shooting before a live studio audience in February, and will air sometime in the spring. [THR]
The Office has welcomed a number of high-profile guests over the years, but don't hold your breath for Steve Carell to become one of them. "I'm hopeful, but I don't think [Carell] will be back," Greenblatt told press. "He left in the way that he wanted that character to leave. [...] There's maybe a little Hail Mary pass on a cameo, but I think the decision is that he [doesn't want to compromise] his [original] exit."
Carell's departure from the series in Season 7 was pretty perfect, so it makes sense that he'd want to leave well enough alone. Still, it's a bummer to hear that we may never hear Michael Scott yell "that's what she said!" ever again. The Office will end its ninth and last season with a special one-hour finale this spring. Rumor has it the episode will air May 9, but NBC has not confirmed the scheduling at this time. [TV Line]
NBC has uploaded a new trailer for the midseason premiere of freshman hit drama Revolution. It sounds like those who've stuck with the series so far will be rewarded for their patience come second part of Season 1, as creator Eric Kripke promised at the TCA panel that the second part of the season would be "more shocking, more often."
Revolution picks up where it left off on March 25. [via Screen Crush]Magic City won't return to air for a few months yet, but this new trailer for Season 2 offers a taste of the major drama to come — and what I believe is our first look at James Caan, who was cast as gangster Sy Berman last fall.
Season 2 of Magic City will air on Starz this summer. [THR]
Let's close out with two videos for totally brand-new series coming up on our horizon. The first is a trailer for Da Vinci's Demons, the Starz series that follows Renaissance man Leonardo Da Vinci in his sexy, action-packed younger years. As you might guess, it's not exactly striving for perfect historical accuracy.
Da Vinci's Demons bursts onto the scene April 12. [via Screen Crush]
More intriguing (in my opinion) is the new promo for The Following, which the /Film team quite liked when we previewed it at SDCC this year. Kevin Bacon stars as a troubled ex-FBI agent, and James Purefoy plays the serial killer he once put behind bars.
The Following debuts January 21 on Fox. [via Coming Soon]