'Django Unchained' Trivia: Sacha Baron Cohen's Excised Role; Walton Goggins Cut Scenes; Zoe Bell's Secret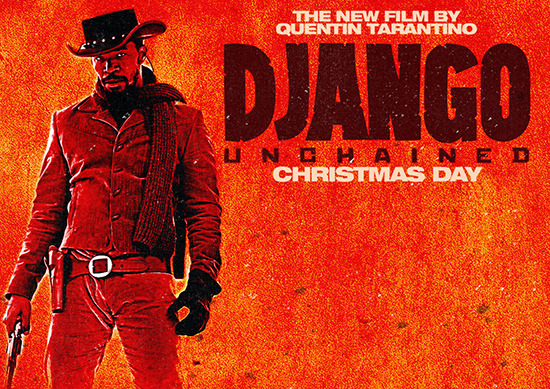 Quentin Tarantino's new film Django Unchained is a big beast, but it was once bigger. The original script, widely leaked last summer, is a 166-page monster that features characters and situations that didn't make the final cut at all, and others that appear in significantly altered form. And then there's stuff in the film that wasn't in the script at all, but which was planned to be bigger or more detailed at one point.
If you want to read the script, you can grab it from the Weinstein Company's "for your consideration" site for the film. Then you can cross reference it with a lot of the info that's floating around now. For instance, we knew that Sacha Baron Cohen was cast in the film but had to drop out. We've got a brief story from him about why he couldn't play Scotty, a character ultimately cut. And Walton Goggins talks about scenes he shot that didn't make the final film.
Finally, there's a secret about the mute character played by Zoe Bell, under a bandanna, which helps reveal why she didn't have any lines in the film. Vague spoilers follow, but by this point you've seen Django, yes?
First up let's go to Sacha Baron Cohen, who explained his cut role to Deadline, saying that conflicts with finishing The Dictator and having a bigger role in Les Miserables meant that he couldn't show up for Tarantino:
I was editing 'The Dictator' and we were very close to release and Paramount wouldn't push the date. And then I knew I'd have to jump straight from there into 'Les Mis[erables]' and it basically became a choice of either pulling out of 'Les Mis' or pulling out of 'Django.' I'm sure 'Django' is an incredible movie, but it was essentially one scene.
That one scene is a big part of the backstory for Django's wife Broomhilda, and something that was cut altogether when Cohen backed out. The character is a young, naive guy who is given Broomhilda as a compantion by his father. But an ill-fated trip to Calvin Candie's gambling den leaves Scotty dead and the woman in the hands of Candie, thereby setting up the endgame conflict we see in the film.
In an interview with The Playlist, Walton Goggins talks about a couple of his cut scenes, which aren't necessarily things you can find in the original script, as Goggin's character is an amalgamation of two guys from the original draft: Billy Crash (the actor's original role) and Ace Woody, who was first meant to be played by Kevin Costner, then Kurt Russell, and who was folded into Goggins' part when those two actors both passed.
There was a big scene between Leonardo and I that really cemented their relationship and you really saw how the inner workings of the plantation were conducted. And we had long conversations between Billy Crash and Sam Jackson's character and how they both had a vested interest in keeping the status quo because it was the only way they would retain their power.
Finally, the best bit to come to light has to do with a very minor character. In a long Vanity Fair profile about costume designer Sharen Davis and her work on the film, there's a great tidbit about one character: the bandanna-masked character played silently by Zoe Bell in the film. (Thanks to Renn Brown for the heads-up on that interview.) The character isn't in the script, as I recall, but she's got more of a backstory than we see in the movie.
Vanity Fair says,
That leaves some unexplained characters, like that of the beautiful lady outlaw whose face is half-covered throughout the film. (The idea there, says Davis, is that the character would drop the bandana to reveal an absent jaw.)
Did they ever shoot that reveal? Right now we don't know. Circling back around to Goggins, in that same interview he mentioned a bit about Bell, too:
Yeah, you don't really get anything from her character. But she's lethal. And you know, I should probably just stick to myself and my character.