'Looper', 'The Master', 'Perks Of Being A Wallflower', And More Nominated For Writers Guild Of America Awards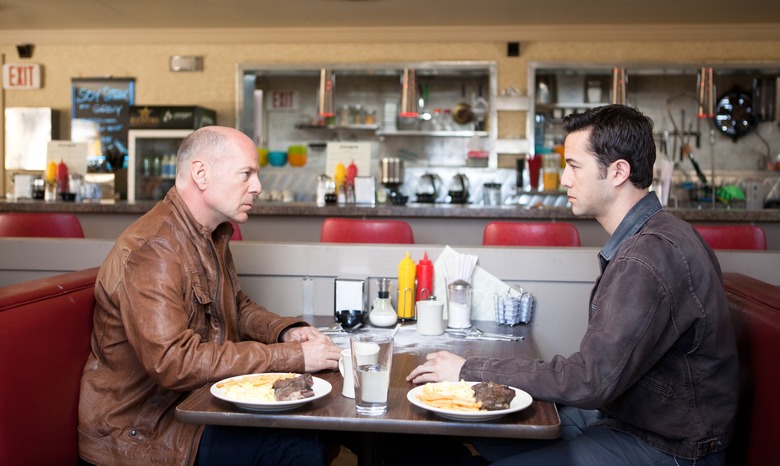 With just days to go until Oscar nominations are announced, the Writers Guild of America has unveiled its list of nominees for their top screenplay awards. As expected, many of these are films that have picked up plenty of accolades already. It'll surprise no one to see that Zero Dark Thirty, Moonrise Kingdom, and Lincoln are among the contenders. But they've made room for some more offbeat choices as well, including Looper, Perks of Being a Wallflower, and The Master. (Jason Reitman should be pleased.) Hit the jump to see the list.
Oscar voting closes today, so the WGA nominations aren't likely to influence the race for the industry's most coveted trophies. Nonetheless, it's a good indication of what screenplays are being talked about among insiders. Variety notes that the WGA and Academy Awards have matched winners for 12 out of the last 18 years in the original category, and 13 out of the last 18 in the adapted one.
WGA winners will be announced in a ceremony on February 17.
ORIGINAL SCREENPLAYFlight, Written by John Gatins; Paramount PicturesLooper, Written by Rian Johnson; TriStar PicturesThe Master, Written by Paul Thomas Anderson; The Weinstein CompanyMoonrise Kingdom, Written by Wes Anderson & Roman Coppola; Focus FeaturesZero Dark Thirty, Written by Mark Boal; Columbia PicturesADAPTED SCREENPLAYArgo, Screenplay by Chris Terrio; Based on a selection from The Master of Disguise by Antonio J. Mendez and the Wired Magazine article "The Great Escape" by Joshuah Bearman; Warner Bros. PicturesLife of Pi, Screenplay by David Magee; Based on the novel by Yann Martel; 20th Century FoxLincoln, Screenplay by Tony Kushner; Based in part on the book Team of Rivals: The Political Genius of Abraham Lincoln by Doris Kearns Goodwin; DreamWorks PicturesThe Perks of Being a Wallflower, Screenplay by Stephen Chbosky; Based on his book; Summit EntertainmentSilver Linings Playbook, Screenplay by David O. Russell; Based on the novel by Matthew Quick; The Weinstein CompanyDOCUMENTARY SCREENPLAYThe Central Park Five, Written by Sarah Burns and David McMahon and Ken Burns; Sundance SelectsThe Invisible War, Written by Kirby Dick; Cinedigm Entertainment GroupMea Maxima Culpa: Silence in the House of God, Written by Alex Gibney; HBO Documentary FilmsSearching for Sugar Man, Written by Malik Bendejelloul; Sony Pictures ClassicsWe Are Legion: The Story of the Hacktivists, Written by Brian Knappenberger; Cinetic MediaWest of Memphis, Written by Amy Berg & Billy McMillin; Sony Pictures Classics