'Hansel And Gretel: Witch Hunters' Red-Band Trailer: Don't Eat The Effin' Candy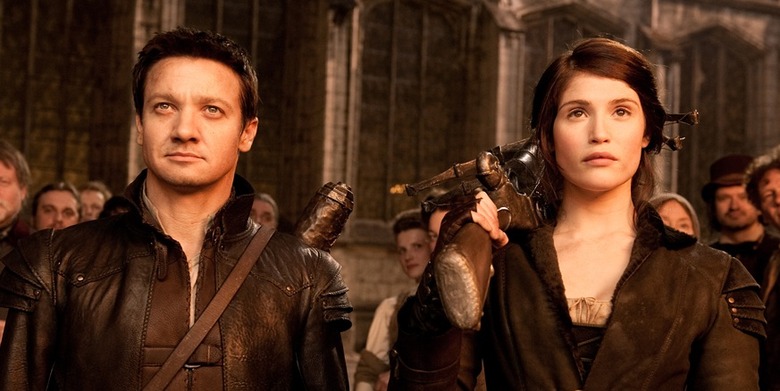 The fairy tale trend continues in full swing in 2013, with Tommy Wirkola's Hansel and Gretel: Witch Hunters kicking things off later this month. Jeremy Renner and Gemma Arterton star as the titular siblings, now all grown up and exterminating witches for profit. (Though, as Gretel mordantly notes, "we'd do this shit for free.")
Earlier trailers have showcased the dark side of witch hunting and the twisted sense of humor that comes with it. The latest red-band connect some dots by laying out the plot and delving into the siblings' sad past. Famke Janssen, Peter Stormare, and Zoe Bell also star. Watch it after the jump.
In order to make the best of its cheesy, B-movie premise, Hansel and Gretel: Witch Hunters needs to serve up some inspired gore and some memorable one-liners. It's trying so hard to offer both, but — at least based on the trailer — it falls flat. The witch killings aren't particularly original and the jokes aren't really that clever. Hopefully they've got some better stuff saved for the actual movie.
At least Hansel and Gretel: Witch Hunters doesn't suffer from the same seriousness that sank the similarly titled Abraham Lincoln: Vampire Hunter. This likely won't be a great film, but it'll probably keep you mildly entertained for a couple of hours. Keep in mind, also, that the competition in January isn't all that stiff. Hansel and Gretel: Witch Hunters opens January 25, which puts it against the Peter Farrelly-produced Movie 43 and the Jason Statham-starring Parker.
After getting a taste for blood as children, Hansel (Jeremy Renner) and Gretel (Gemma Arterton) have become the ultimate vigilantes, hell bent on retribution. Now, unbeknownst to them, Hansel and Gretel have become the hunted, and must face an evil far greater than witches...their past.