Exclusive: 'Weapon Of Choice' Art Show Focuses On Iconic Pop Culture Weapons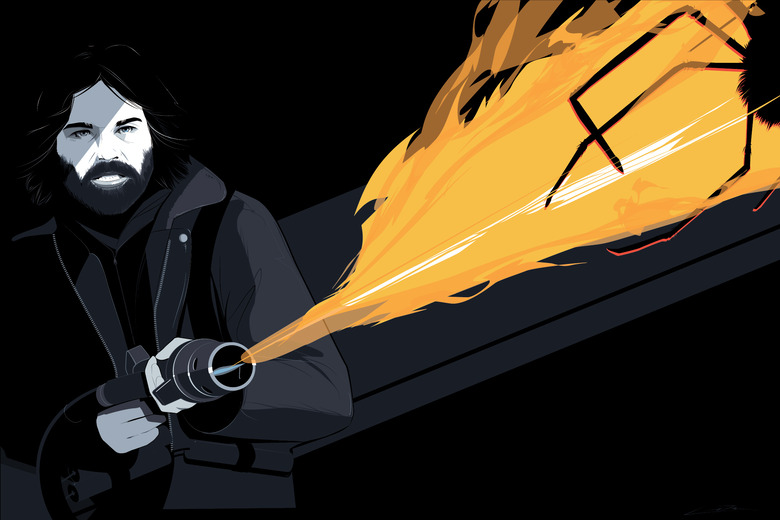 Most of our favorite sci-fi, fantasy or action films become our favorites because of their details. I'm talking weapons; iconic tools of destruction that are so damn cool we want to own them. Lightsabers in Star Wars, the Hanzo steel in Kill Bill, Robocop's handgun, pulse rifles in Aliens, Doctor Who's sonic screwdriver, Indiana Jones's whip, Ghostbuster proton packs, Freddy's claws. Iconic weapons are a huge asset to a classic pop-culture action film.
A new art gallery is opening in Los Angeles January 11 called the Hero Complex Gallery and they agree with that assessment. Their debut show is called Weapon of Choice. All the work is based upon pop culture weapons. Some are obvious, like the ones mentioned above. Others are more subtle, like a film noir femme fatale using sex as a weapon. But either way, the show looks incredibly gorgeous and /Film is honored to debut several of the works in the show.
The show has The Thing flamethrower by Craig Drake, Conan's sword by Joshua Budich, the No Country for Old Men bolt pistol by Scott Belcastro, Doctor Who's sonic screwdriver by Brandon Schaefer, Buck Rodgers' ray gun by Laurent Durieux, and images from Game of Thrones, Lord of the Rings, Kill Bill and much more. Check it all out below.
Here's a small sampling of the work in Weapon of Choice, opening January 11 in LA. Mouse over each for artist info and read much more below.
Like the art? Here's the information to check it out both in person and online.
The Hero Complex Gallery opens Weapon of Choice for one weekend only from 7-11 p.m. Friday January 11 at 11527 Pico Blvd., Los Angeles, CA. It'll be open from 11 a.m.-7 p.m. Saturday and 11 a.m.-3 p.m. Sunday. For more information visit www.herocomplexgallery.com, which is also where the online sale will happen Saturday January 12. If you can't make it those days, don't worry, it won't be the last time you hear about this show.
A few other notes. First up, one of the first 150 people in line will be given one of three ultra limited maple wood Laurent Durieux variants. The other two will go on sale via eBay with proceeds going help aid in the recent Newtown tragedy. In addition, portions of sales from all shows at the Hero Complex will go to the Motion Picture & Television Fund.
Here are editions and sizes for the pieces above, as well as a few additional tidbits. Not all info is available just yet for every piece.
Craig Drake's "RJ MacReady" – Gouache on 30x20 art board, framed – $1500 (NOTE: In the past Drake's originals have been released later as prints so, just be patient with this one. It's a beaut.)
Craig Drake's "Hanzo'd" Regular and Variant. Already sold out, a few extras will be on sale at the show and Drake himself will be in attendance.
Blunt Graffix' "Smasher" (Inspired by The Hulk) 24x36, Edition of 25, $100
Brandon Schaefer's "Sonicing & Entering" (Inspired by Doctor Who)- 18x24 – Edition of 50 – $25
Bruce Yan's "Shaun of the Dead" (title/price unknown) – 12x24 – Edition of 50 – printed at D&L
Darin Shock's "Victory" (Inspired by Entourage's Viking Quest) – $30 – Edition of 100
Joshua Budich's "Conan The Barbarian" (title/price unknown) 12x36 – Red metallic paper – Printed at Blunt Graffix
Laurent Durieux "Buck Rogers" – 3 versions – Regular Edition ($55 – Edition of 150), Variant w/Glow in the Dark ($75 – Edition of 75), and Variant w/glow in the dark on maple wood (Edition of 3, 2 available via charity auction, one given away on opening night to one of first 150 customers). Printed by D&L Screen Printing.
Mark Lone's "Sting The Orc Blade" – 12x24 – Edition of 60, GID Glow in the Dark Blue, Printed at D&L Screen Printing.
Nick Comparone's "Speak To Me, Friend, Whisper, I'll Listen" (inspired by Sweeney Todd – 1/1 – Spray Paint, Collage, & Silver Leaf on Canvas – 30"x20" – $700
Tracie Ching's "Ice" (Inspired by Game of Thrones) – 12x36, Edition of 75 – $40. Also available, a Stark Mini Print Set – 5"x7" – In-Gallery Exclusive – Available with "Ice" for $50
Samuel Ho's "Tongue" (inspired by Alien) 12x16, Edition of 20
Tim Jordan's "Love Gun" (Inspired by James Bond) – 24x18
Trev Murphy (Inspired by the Shining) – 18x24