Star Wars Bits: George Lucas Engaged, Gay Romance Coming To 'The Old Republic,' Ewan McGregor, Wes Anderson And A Female Lead?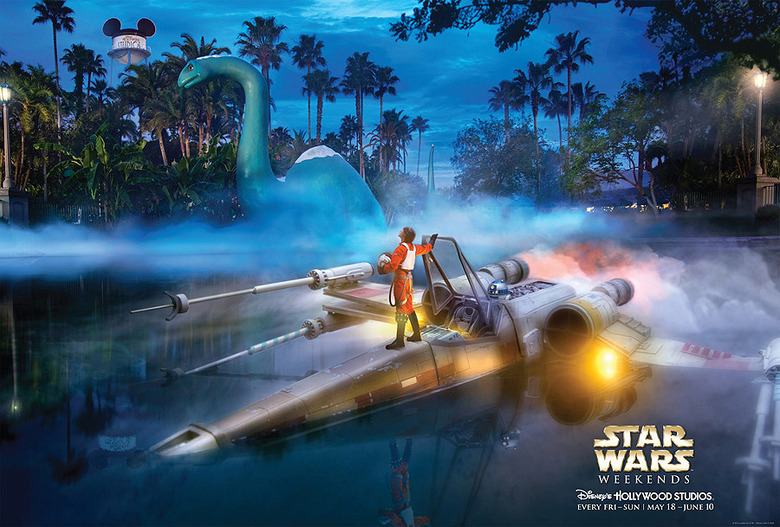 Love is in the air in this edition of Star Wars Bits. After the jump read a few romantic stories, a few speculative ones, some Star Wars history and a possible massive hint at Episode VII. Here's what we've got:
Disney announced the dates of their long running Star Wars Weekends in 2013
Ewan McGregor would "be up for" Star Wars Episode VII if needed.
A long-lost short film that played in front of The Empire Strike Back, Black Angel, might soon resurface online.
Wes Anderson thinks he could make a good Han Solo origin movie.
Star Wars MMO The Old Republic is trying to incorporate same sex romance.
George Lucas just got engaged to the chairman of DreamWorks animation.
If you have an idea for a Pringles Star Wars commercial, you could win $75,000.
Could the lead character of Star Wars Episode VII be female?
Every summer for several years, Disney's Hollywood Studios in Orlando, Florida has been hosting Star Wars Weekends. It's multi-day celebration of all things Star Wars with special guests, events and more. They've just announced their dates for 2013 - every Friday, Saturday and Sunday from May 17 – June 9, 2013 – and from this blog post, it seems like it'll be more of the same. However, we figured it was worth mentioning because it's the first time Disney is hosting Star Wars Weekends as the official caretakers and owners of the franchise. Who knows what could happen? Read more at the link or watch this video for info.
The second you appear in a Star Wars movie, you're burdended with being asked about the franchise for the rest of your days. Even characters who are presumed dead aren't immune. Ewan McGregor has been out promoting The Impossible and is under fire about Star Wars Episode VII. Speaking with Total Film, he gave a new set of options to Kathleen Kennedy and Michael Ardnt:
I'd be up for it. If they need me to be Obi Wan Kenobi, I'd be happy to do it....Who knows what the story would be? How could I be Obi Wan Kenobi? Oh, I'm in the force? With Liam [Neeson]? We're in there together? I'm up for it anyway. I will don the cloak again.
Here's an interesting piece of Star Wars trivia I was unaware of. Apparently director Roger Christian, who worked in the art department on the original Star Wars and went on to direct Battlefield Earth, directed a short film in 1979 called Black Angel. The short was financed by George Lucas and played in front of prints of The Empire Strikes Back in 1980 across Europe and Australia because it was believed to be similar. Unfortunately, the negative was believed lost for over thirty years. One has since been rediscovered, though, and Christian talked to Wired about how he'd like to release it:
Probably the best way is a downloadable version. I think it would be great to see it in a cinema again on a program with Empire Strikes Back. That's how it was intended to be seen.
We'll be on the lookout for that. Read more about the short at Wired via Verge.
Deadline did a great interview with director Wes Anderson about his awards contender Moonrise Kingdom and brought up the fact that Anderson was influenced by Star Wars early on. They asked, would he make a good Star Wars movie now that it's back out there?
I have a feeling I would probably ultimately get replaced on the film because I don't' know if I have all the right action chops. But at least I know the characters from the old films.
He then added this:
I don't think I would do a terrible job at a Han Solo backstory. I could do that pretty well. But maybe that would be better as a short.
One of the producers of the Star Wars MMO Star Wars: The Old Republic just released a 2013 "state of the game" blog and, in it, said they're attempting to encorporate same sex relationships. Here's the quote, thanks to Strategy Informer for the heads up:
I realize that we promised SGR (same gender romance) to you guys and that many of you believed that this would be with a companion character. Unfortunately, this will take a lot more work than we realized at the time and it (like some other pieces of content we talked about earlier in the year) has been delayed as we focused on the changes required to take the game Free-to-Play. As we have said in the past, allowing same gender romance is something we are very supportive of.
Speaking of romances, Star Wars creator George Lucas just got engaged to long-time girlfriend, DreamWorks Animation chairman Mellody Hobson. Congrats to George and read more at the Hollywood Reporter.
Pringles has teamed up with LucasFilm to do a commercial contest aimed at the 3D re-releases of Star Wars Episode II: Attack of the Clones and Star Wars Episode III: Revenge of the Sith. Head to Tongal for the full details but the winner brings home $75,000. Not bad. Thanks to TheForce.net.
Finally, Peter said we should put this tweet of his in this article but he couldn't say anymore.
https://twitter.com/slashfilm/status/286945768097595395
The wording here is weird. "Who said the lead character in Star Wars Episode VII is going to be a male star?" could mean it'll be male but NOT a star. But I tend to believe Peter was suggesting a female lead. The obvious candidates? Han Solo and Princess Leia's Jedi daughter (named Jaina Solo in the novels. Novels we know aren't necessarily being adhered too) or Luke Skywalker's eventual wife, Mara Jade. Or maybe someone complete different. What do you think about the possibilities?