'Ginger & Rosa' Trailer: Elle Fanning And Alice Englert Deal With Love, Family, Friendship, And The Cuban Missile Crisis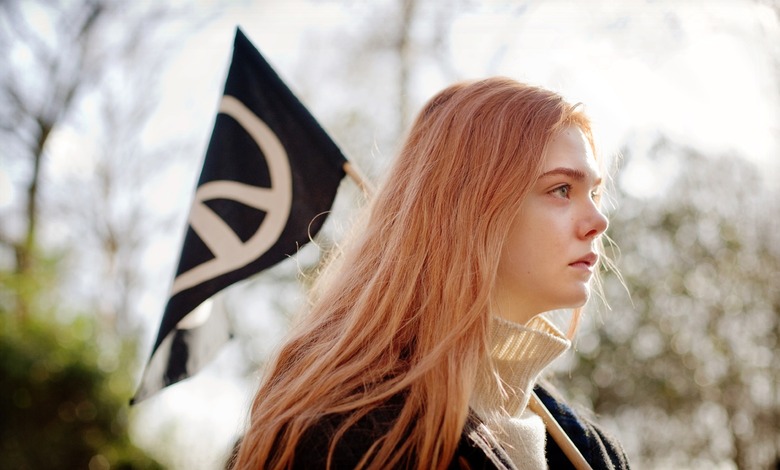 Not all child actors transition easily into more grown-up roles, but Elle Fanning looks like an exception to the rule. The younger Fanning sister has been acting since her toddler years, and in recent years has been a standout presence in films like Somewhere, Super 8, and We Bought a Zoo.
She tackles slightly more mature material in Sally Potter's coming-of-age tale Ginger & Rosa, playing a 17-year-old teen in '60s London. Sincere and serious, Ginger throws herself into the fight for nuclear disarmament. Meanwhile, she's growing apart from her lifelong best friend Rosa (newcomer Alice Englert) and struggling with the breakdown of her own family. Watch the new trailer after the jump.
Responses to Ginger & Rosa have been mixed, with some calling it Potter's best film since Orlando and others criticizing it as a disappointment. Even so, it may be worth checking out for Fanning's performance. She gets some great moments in the trailer, and even the less positive reviews have singled her out for special praise. Her work is especially impressive when you consider that the accent's fake (Fanning is American) and that she was just 13 when it was shot.
Ginger & Rosa is slated for a limited release starting March 15.
London,1962. Two teenage girls – GINGER & ROSA – are inseparable. They skip school together, talk about love, religion and politics and dream of lives bigger than their mothers' domesticity. But the growing threat of nuclear war casts a shadow over their lives. Ginger (Elle Fanning) is drawn to poetry and protest, while Rosa (Alice Englert) shows Ginger how to smoke cigarettes, kiss boys and pray. Both rebel against their mothers: Rosa's single mum, Anoushka (Jodhi May), and Ginger's frustrated painter mother, Natalie (Christina Hendricks). Meanwhile, Ginger's pacifist father, Roland (Alessandro Nivola) seems a romantic, bohemian figure to the girls. He encourages Ginger's 'Ban-the-Bomb' activism, while Rosa starts to take a very different interest in him. As Ginger's parents fight and fall apart, Ginger finds emotional sanctuary with a gay couple, both named Mark (Timothy Spall and Oliver Platt), and their American friend, the poet Bella (Annette Bening). Finally, as the Cuban Missile Crisis escalates – and it seems the world itself may come to an end – the lifelong friendship of the two girls is shattered. Ginger clutches at one hope; if she can help save the world from extinction, perhaps she too will survive this moment of personal devastation.