Open Road Films Buys Steve Jobs Biopic 'jOBS,' April Release Planned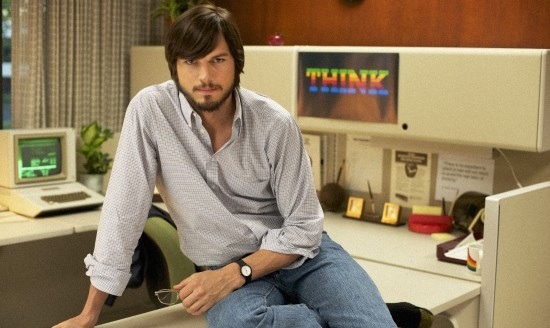 Once the initial disbelief at Ashton Kutcher's casting in Joshua Michael Stern's jOBS wore off, it became apparent that the Two and a Half Men star looked the part of late tech guru Steve Jobs, if nothing else. But there's a wide gap between mimicking Jobs' hairstyle and outfits and actually embodying his persona.
Sundance Film Festival attendees will get to see how Kutcher really fares when jOBS makes its world premiere as the Sundance Film Festival's closing night film later this month, but the rest of us won't have too much longer to wait either. Open Road Films has just picked up the biopic with plans to release it theatrically this spring. More details after the jump.
Described as "an intense dialogue-driven story that is as much a sweeping epic as it is an immensely personal portrait of Steve Jobs' life," jOBS follows the Apple co-founder from 1971 (the year Jobs met Steve Wozniak, played here by Josh Gad) through 2000. Matthew Whiteley wrote the script, and Dermot Mulroney, Lukas Haas, J.K. Simmons, and Matthew Modine also star.
I'm still not sold on Kutcher's talents as an actor (no matter how "inspiring and unforgettable" the press release claims his performance is), and jOBS is just a terrible title, but I'm open to being pleasantly surprised. Certainly Stern's made an effort to get the facts right, even gaining "unprecedented access" to the Palo Alto garage where Apple Inc. first started.
Meanwhile, Aaron Sorkin is still plugging away on the competing biopic for Sony, which has yet to confirm a director or cast.