Mondo Kicks Off 2013 With Ken Taylor's 'Jurassic Park' Poster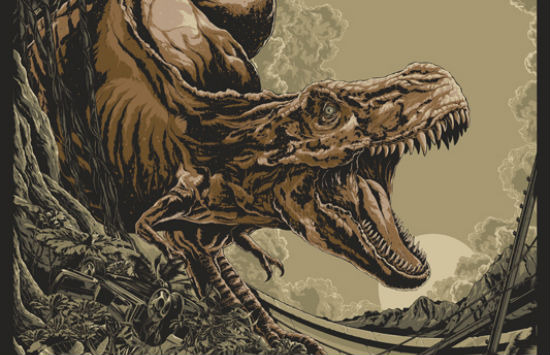 Mondo likes to start every new year off with a bang, and 2013 is no different. They'll soon release the latest poster in their popular Jurassic Park series, this one by the brilliant Australian artist Ken Taylor.
In 2012, Taylor not only had his first U.S. gallery show, but did amazing posters for Quentin Tarantino, Hulk, Halloween, 20,000 Leagues Under the Sea, Drive, Breaking Bad and much more. He's been one of Mondo's MVP artists, and his gorgeous rendition of this Steven Spielberg classic continues the trend. It'll be on sale Thursday, check it out in full below.
Here's the regular and variant of Ken Taylor's Jurassic Park. The gold is the regular and silver is the variant.
Each is a 24"x36" screen print. The regular is an edition of 475 and will cost $50. The variant is an edition of $225 and will cost $75. Follow @MondoNews for the on sale info Thursday.