New Year TV Spots For Sam Raimi's 'Oz The Great And Powerful'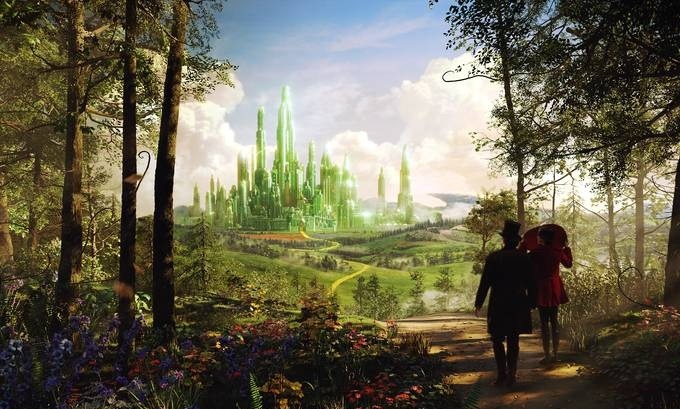 Well, it's 2013 and that means we can wipe the slate clean in all kinds of ways. Gone are the days obsessing over The Avengers and Dark Knight Rises. Now it's about the latest and greatest. One such film, or at least Disney hopes, is Sam Raimi's Oz The Great and Powerful. The big budget prequel to the classic 1939 film stars James Franco as a magician who is run out of a small town, only to end up in Oz. There, he encounters magic beyond his wildest dreams as he's forced to choose sides in an epic battle for the land between three sisters: Theodora (Mila Kunis), Evanora (Rachel Weisz) and Glinda (Michelle Williams).
Raimi's film will be released on March 8 and Disney released two spots during the New Year's Eve celebration to get fans excited. Check them out below.
Here are two different commercials, one played before the ball dropped at midnight and the other after the New Year.
2012:
2013:
Not a lot of new footage in there, but it's cool to see the marketing being to get rolling for this one. Expect it to be everywhere in the coming months as Disney has a lot invested, not only financially but culturally. The company has been keen to move away from original, big budget live-action films as the ones they've released haven't found a lot of success (save for Alice in Wonderland). If this (and Lone Ranger) aren't major hits, there's a chance Disney live action won't reach this size again unless the words "Star Wars" or "Pirates of the Caribbean" are in the title.
Oz The Great and Powerful opens on March 8.
Disney's fantastical adventure "Oz The Great and Powerful," directed by Sam Raimi, imagines the origins of L. Frank Baum's beloved character, the Wizard of Oz. When Oscar Diggs (James Franco), a small-time circus magician with dubious ethics, is hurled away from dusty Kansas to the vibrant Land of Oz, he thinks he's hit the jackpot–fame and fortune are his for the taking–that is until he meets three witches, Theodora (Mila Kunis), Evanora (Rachel Weisz) and Glinda (Michelle Williams), who are not convinced he is the great wizard everyone's been expecting. Reluctantly drawn into the epic problems facing the Land of Oz and its inhabitants, Oscar must find out who is good and who is evil before it is too late. Putting his magical arts to use through illusion, ingenuity–and even a bit of wizardry–Oscar transforms himself not only into the great and powerful Wizard of Oz but into a better man as well.