TV Bits: 'Girls', 'Downton Abbey', 'How I Met Your Mother', 'Happy Endings', 'Don't Trust The B--', 'Archer', 'The Walking Dead', 'Mockingbird Lane', 'The Office'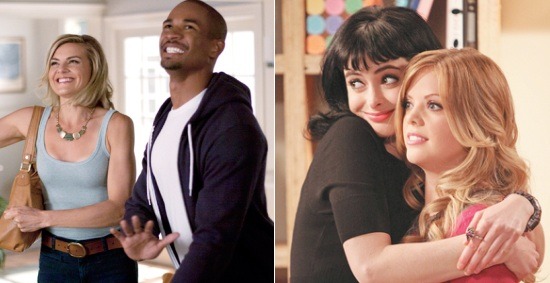 While we've been running around preparing for and celebrating the holidays, a few interesting bits of TV news have broken over the past few days. After the jump:
How I Met Your Mother will return for Season 9
Happy Endings and Don't Trust the B— get shuffled
Timothy Olyphant books an Archer guest role
Why did Glen Mazzara leave The Walking Dead?
The CW is developing a female Robin Hood series
NBC's failed The Farm will air as an Office episode
Bryan Fuller's Mockingbird Lane is officially dead
Girls Season 2 gets two new trailers and a featurette
Downton Abbey is losing a star in Season 4
ABC's already declined to order more 666 Park Avenue, and now it's pulling the supernatural drama off its Sunday 10 PM slot altogether. Instead, the network will air new episodes of Happy Endings and Don't Trust the B— starting January 6. Both comedies will continue to show new episodes on Tuesdays as well during that time period.
I'm not one to complain about getting twice the usual dose of Happy Endings in a given week, and I'll be glad if the move helps these comedies boost their viewership; on the other hand, schedule-shuffling generally isn't a sign of confidence. Meanwhile, the plan for 666 Park Avenue is to air the remaining episodes over the summer. [Deadline]
Isis will be getting a little visit from Raylan Givens in the next season of Archer — or at least, the actor who plays him. Timothy Olyphant has signed on for a guest role on the hit comedy as a secret agent pal of Sterling's who is accused of double-crossing his colleagues. The episode will air January 24. [Screen Crush]
The official reason for Glen Mazzara's departure from The Walking Dead may be vague "creative differences," but it seems the real explanation could come down to money. One writer speculates that Mazzara may have wanted a raise that the stdio wasn't willing to give him.
AMC hasn't confirmed that guess, of course, but it fits with what we've previously seen of their tightfistedness. Certainly fellow showrunners Kurt Sutter (Sons of Anarchy) and Shawn Ryan (The Shield) are eager to blame the network. Head to Vulture to read more.
Archery has taken off in a big way in 2012, with heroes like The Hunger Games' Katniss, Brave's Merida, The Avengers' Hawkeye, and Arrow's Oliver Queen. And that trend will continue into 2013, if The CW has anything to do with it. The network behind Arrow is developing Sherwood, an hourlong drama about another bow-and-arrow-wielding do-gooder.
Tze Chun is writing the script, which is set in eleventh-century England. At its center is a young noblewoman who takes up with Robin Hood and his Merry Men to help the oppressed. That includes her serf boyfriend, who's been wrongfully locked up by Norman occupiers. [THR]
NBC slammed the brakes on the proposed Schrute-centric Office spinoff The Farm a couple of months ago, but we will get to see the failed pilot eventually. Greg Daniels has confirmed that the show will air in 2013 as an episode of The Office.
"We're not going to air exactly what it was, because it has certain aspects that were appropriate for a pilot of a new show," he said. "We're going to shoot a little additional material to make it fit into the season more." The Office ends its nine-season run this spring. [TV Line]
The writing was on the wall when NBC chose to air Bryan Fuller's Mockingbird Lane pilot as a Halloween special rather than as the first episode of a new series. A few fans held out hope that solid ratings could convince the network to change their minds, but now NBC has officially passed.
"I tweet with a heavy heart," Fuller wrote. "NBC not moving forward with #MockingbirdLane. From producers and cast, thank you all for enthusiasm and support." [Deadline]
January seems like such an appropriate time to debut a new episode of Girls, seeing as the HBO comedy is all about young people resolving (and often failing) to better themselves. Two new trailers offer a peek at the fresh challenges Hannah (Lena Dunham) and her pals will face when Season 2 kicks off January 13.
But don't think the girls are the only ones dealing with new problems next year. In a new featurette, Alex Karpovsky, Adam Driver, Christopher Abbott, and Andrew Rannells discuss where the guys of Girls are headed.
Finally, because I like to save the most spoiler-y items for last, here's a major bit of news from Downton Abbey. (Stop reading now if you don't know / don't want to know what happens in the upcoming third season.)
We heard a rumor a while back that Dan Stevens could sit out the show's upcoming fourth season. Sadly, that talk has now been confirmed. Mourn for the departure of Matthew Crawley if you like, but there's no need to cry for Stevens — he's got plenty of other stuff to keep him busy, including his run on Broadway's The Heiress and a role in Bill Condon's upcoming WikiLeaks film. [Deadline]