Sequel Bits: 'The Muppets 2', 'The Raid 2', 'Transformers 4', 'Anchorman 2', 'Unbreakable', 'The Godfather', 'Trick 'R Treat', 'A Good Day To Die Hard'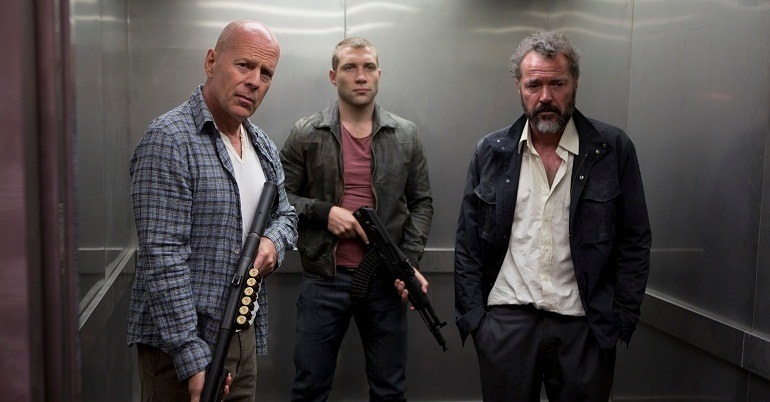 After the jump:
Christoph Waltz might appear in The Muppets 2 after all
Has Transformers 4 replaced Brenton Thwaites with Jack Reynor?
Berandal (a.k.a. The Raid 2) announces new cast members
Walton Goggins promises to be funny in G.I. Joe: Retaliation
Paul Rudd doesn't know much about Anchorman 2 but hopes it'll be good
Samuel L. Jackson has things to say about Unbreakable
Paramount and the Puzo estate settle the Godfather suit
A Good Day to Die Hard debuts two explosive TV spots
Trick 'R Treat's Sam has a holiday greeting for you
Waltz wouldn't spill too many details, but he talked about working with Miss Piggy. "Yeah, I was looking forward to meeting Miss Piggy, but they told me that dancing with Miss Piggy for example is almost impossible because she's totally operated by puppeteers and you have to dance with someone where there's actually a real person inside," he said. "So, let's see who I dance with." [via Comic Book Movie]
Could Brenton Thwaites be saying goodbye to his dreams of becoming the next Shia LaBeouf? Weeks after we got word that he'd been cast as one of the leads in Transformers 4, Irish industry site IFTN is reporting that Jack Reynor has landed the part instead.
We don't know how reliable their reports are, so it's safest to treat this one as rumor for now. Still, that could explain why Paramount has yet to officially announce the casting. As far as we know, Nicola Peltz and Mark Wahlberg remain attached. [via Twitch]
We've known for a while that Berandal, the sequel to The Raid: Redemption, would re-team director Gareth Evans and star Iko Uwais, but as the start of production looms a few more cast members have been revealed.
Alex Abbad (Merantau), Marsha Timothy (The Forbidden Door), Mathias Muchus, and Tio Pakusadewo have joined the sequel, along with Julie Estelle (Macabre) who'll play Hammer Girl. Martial arts expert Cecep Arif Rahman has also boarded in a major role. [Twitch]
As one of the new faces in G.I. Joe: Retaliation, Walton Goggins has an important role to play: He's the funny one. The actor discussed his character, Warden Nigel James, in a recent interview with IAmRogue:
I'm one of the comic reliefs, yeah, absolutely. He's got some really good one-liners and we were able to go off script a little bit and improvise some stuff with director Jon Chu. It's just a visual extravaganza, it's so much fun, and it's a really good movie. I've seen it and I'm really excited for it to come out.
[via Comic Book Movie]
Anchorman 2's December 20, 2013 release date is just a year away, but star Paul Rudd says he doesn't know much about it yet. "I just know we're going to be shooting it in the spring," he said. "We hope it's good, it's been a while."
One thing we can definitely look forward to is some retro hairstyles, however. "I know that that's the reason my hair looks like John Taylor from Duran Duran right now," he said. "I can't wait but I don't know much about it. It's shrouded in secrecy." [THR]
M. Night Shyamalan's Unbreakable offered a solid setup for a sequel, but over a decade later, it's pretty clear a followup is never going to come. "There were supposed to be three. I don't know," said star Samuel L. Jackson when asked about it during a Django Unchained press day. "You'll have to ask the brilliant director who wrote it and didn't do the rest of them [...] I mean, he hasn't made a really good movie since then."
Jackson speculated that the studio's disappointment in the box office numbers was part of the issue — as well as Shyamalan's ego. "And there's, you know, 'I'm smarter than everybody coming to watch my movie,'" Jackson said. "Quentin [Tarantino]'s not that. He's just, "I want you to love my movie. I want you to love it and enjoy it because this is fucking cool." In other words, stop asking Jackson questions about his old movie and go watch his new one. [HuffPo]
Paramount and the Puzo estate have reached a settlement in their dispute over new book and movie sequels to Mario Puzo's The Godfather. The legal battle began in February when Paramount sued to prevent the Puzo estate from publishing an "unauthorized" Godfather prequel.
Shortly afterward, the estate countersued Paramount for breaching its contract, claiming that the document did not include book rights. In May, the two sides agreed to allow the publication of a new novel titled The Family Corleone. Get more details at Deadline.
Die Hard may be a Christmas movie, but its sequel A Good Day to Die Hard will be a Valentine's Day release. With less than two months to go until its premiere, the film has unveiled two new TV spots.
This looks thoroughly ridiculous, in exactly the way you'd want it to. Bruce Willis returns as John McClane, of course, with Jai Courtney and Mary Elizabeth Winstead as his two kids. [Collider]
Halloween may be Sam's favorite holiday, but it's not the only one he enjoys. The creepy Trick 'R Treat character arrives in this new short to wish us a happy season in his own special way. It's not quite a sequel, but it'll do for now.
Obviously, you can blame us, not him, for the delay. Sam strikes me as the kind of fellow who'd send out his holiday greetings on time.