Kevin Smith Hopes To Have 'Clerks 3' In Theaters In 2014 For 20th Anniversary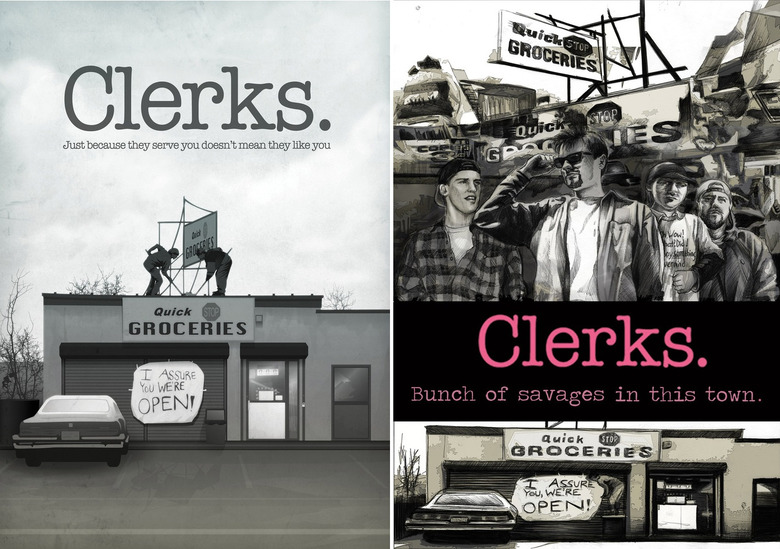 1994 was a major year in American independent cinema. Quentin Tarantino released his second movie: Pulp Fiction. Steve James's documentary Hoop Dreams was hailed as an instant classic. And a tiny British film became one of the year's top grossers: Four Weddings and a Funeral. That was also the year that Kevin Smith released a little movie called Clerks.
Made for just over $27,000, the gritty, raunchy comedy inspired by Richard Linklater's Slacker heralded Smith's pop culture influenced voice into the world of movies. He made a sequel twelve years later and recently announced that a third part would bookend his filmmaking career. In a new interview, Smith revealed a bit more of his plan with Clerks 3. He said he hopes to have it ready in 2014 for the 20th anniversary of his debut, and that he might try to make it for the same amount of money as the original. Watch the interview below, which also includes some Hit Somebody info.
Smith appeared on Good Day LA to talk about his New Year's Eve podcast and spoke about the Clerks 3 and Hit Somebody stuff at 4:52.
src='http://KTTV.images.worldnow.com/interface/js/WNVideo.js?rnd=814664;hostDomain=www.myfoxla.com;playerWidth=550;playerHeight=310;isShowIcon=true;clipId=8104572;flvUri=;partnerclipid=;adTag=News;advertisingZone=;enableAds=true;landingPage=;islandingPageoverride=false;playerType=STANDARD_EMBEDDEDscript;controlsType=overlay'>
I'm anxious to hear what network is going to air Hit Somebody and when that's going to happen. According to Smith, we'll find out in the new year.
As for Clerks 3, I think the film could potentially make enough money to pay off everyone handsomely on the backend if they took no money. And while it might sound impossible to make a movie for $28,000 these days, it's actually more feasible than 20 years go. No need to buy film in 2013 which was likely a huge part of the cost in 1993. And if they can't figure that out, even if they made it for $4 million, it would still be extremely inexpensive in the grand scheme of things.
Are you looking for these Smith projects?