'Aftershock' Trailer: Eli Roth, Actor, Deals With An Earthquake In Chile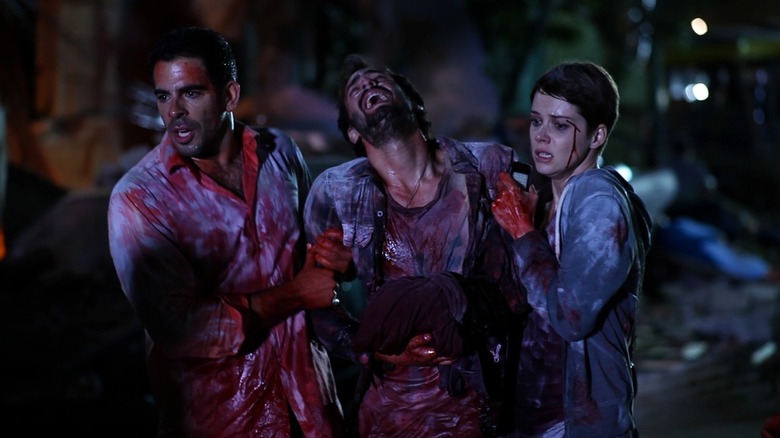 A new trailer has dropped for Eli Roth's latest horror project, but this time he's not the one behind the camera. Roth stars in Nicolás López's Aftershock as one of three friends (with Ariel Levy and Nicolás Martínez) who hit up a Chilean nightclub for a wild night out. Their evening takes a turn for the worse when a serious earthquake hits, and then gets downright deadly when the city begins to panic. Watch the video after the jump.
Aftershock isn't Roth's first time acting — his best known role is probably as the "Bear Jew" in Inglourious Basterds — but the first part of the trailer makes it pretty clear he should stick to his day job. Once chaos erupts, though, his forced frat-boy persona becomes less of an issue.
The film opened on the festival circuit earlier this year to severely mixed reviews. On one end of the spectrum, Rope of Silicon gave it a flat F; on the opposite side, AICN raved that they were "blown away" by it. Aftershock hasn't set a U.S. release date yet, but look for Dimension to roll it out sometime in 2013.
Chile has it all: gorgeous landscapes, smokin'- hot women, cool dudes, great wine, and the wildest parties. For a hapless American tourist, nicknamed Gringo (Eli Roth) by his two Chilean pals Ariel (Ariel Levy) and Pollo (Nicolás Martínez), the trip has been heaven on earth — except that he just can't hook up with the ladies. Gringo's luck seems to change when the group meets a trio of babes — Russian model Irina (Natasha Yarovenko), non-stop party girl Kylie (Lorenza Izzo) and her serious sister Monica (Andrea Osvárt) — who agree to accompany them on a trip to the coastal town of Valparaíso. The new friends are having the best of times whooping it up in a dance club, until a violent earthquake brings the entire city down around them. With this one-time paradise now a landscape of death and destruction that's seething with terror and panic, our unlucky heroes must run for their lives from looters, escaped convicts, and the inevitable aftershocks.