First Official Look: Simon Pegg, Nick Frost, Martin Freeman, And More In Edgar Wright's 'The World's End'
The predicted end of the world may have some folks in a panic, but for Hollywood filmmakers working on apocalypse-themed movies, it's proving to be a marketing boon. Yesterday, we got the first trailer for Seth Rogen and Evan Goldberg's This is the End. Today, we have the first official look at Edgar Wright's The World's End. Check it out after the jump.
A few set photos have already given us a taste of the hijinks to come, but we now have an official still from the film. Pegg tweeted the photo today to celebrate the end of principal photography.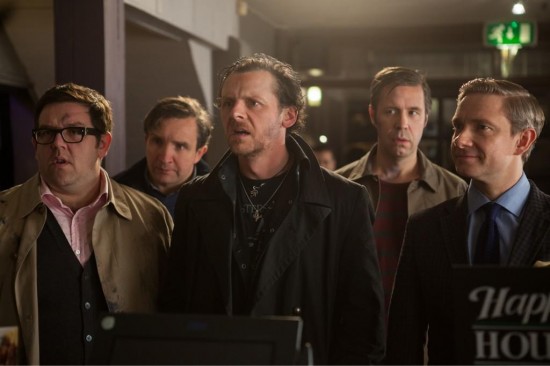 Pegg's costume is worth a giggle, but otherwise the photo doesn't tell us all that much. Still, I'm not about to complain — anything with this much comic talent crammed into one frame is bound to be worth checking out. The world's end comes later today. The World's End comes October 25.
20 years after attempting an epic pub crawl, five childhood friends reunite when one of them becomes hell bent on trying the drinking marathon again. They are convinced to stage an encore by mate Gary King (Pegg), a 40-year old man trapped at the cigarette end of his teens, who drags his reluctant pals to their home town and once again attempts to reach the fabled pub, The World's End. As they attempt to reconcile the past and present, they realize the real struggle is for the future, not just theirs but humankind's. Reaching The World's End is the least of their worries.