'The Incredible Burt Wonderstone' Trailer And Posters: Steve Carell And Steve Buscemi Vs. Jim Carrey In A Battle Of Magic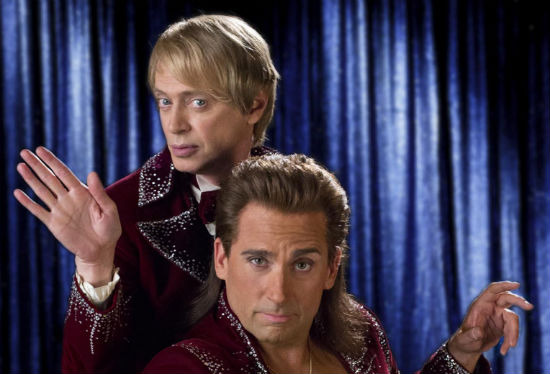 The new school vs. old school movie is nothing new. We've seen the young hot shot come onto the crafty veteran's turf time and time again. What sets The Incredible Burt Wonderstone apart is that it does that in the world of magic. Plus it does it with a cast including Steve Carell, Steve Buscemi, Olivia Wilde, Alan Arkin, James Gandolfini, Jim Carrey and Jay Mohr.
Directed by by TV veteran Don Scardino and co-written by John Francis Daley and Jonathan M. Goldstein, the film opens on March 15. Check out the first trailer below, along with some brand new posters.
Thanks to Apple.com for the trailer. See it in HD there or here's an embed.
And here are four posters, courtesy of Warner Bros.
Superstar magicians Burt Wonderstone (Steve Carell) and Anton Marvelton (Steve Buscemi) have ruled the Las Vegas strip for years, raking in millions with illusions as big as Burt's growing ego. But lately the duo's greatest deception is their public friendship, while secretly they've grown to loathe each other. Facing cutthroat competition from guerilla street magician Steve Gray (Jim Carrey), whose cult followingsurges with each outrageous stunt, even their show looks stale. But there's still a chance Burt and Anton can save the act—both onstage and off—if Burt can get back in touch with what made him love magic in the first place.