Joseph Kosinski Provides Commentary For The First 'Oblivion' Trailer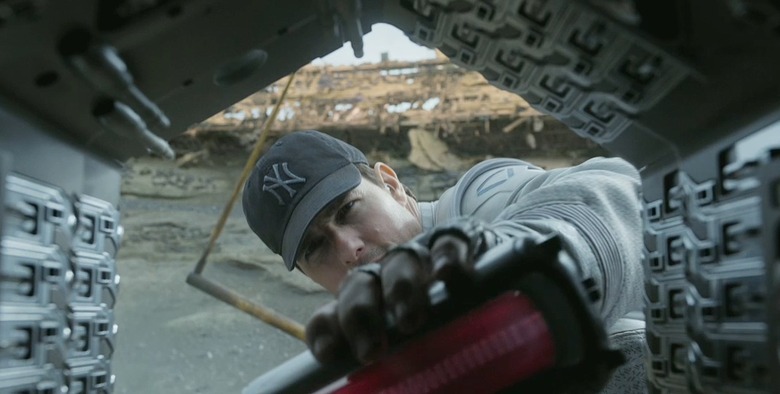 2013's looking like a very promising year for sci-fi, and one of the projects we've been following closely Joseph Kosinski's Oblivion. Tom Cruise plays a lonely technician repairing droids on a post-apocalyptic, depopulated Earth. Then a beautiful woman (Olga Kurylenko) crash-lands on the planet, and everything changes.
The first trailer, released earlier this month, intrigued us with its gorgeous visuals and tantalizing plot teases. But there's only so much information a two-and-a-half minute video can really convey, so today we have a 12-minute commentary track from the director himself about the trailer. Listen to it after the jump.
Also starring Morgan Freeman, Andrea Riseborough, Nikolaj Coster-Waldau, and Melissa Leo, Oblivion opens April 12.
Tom Cruise stars in OBLIVION, an original and groundbreaking cinematic event from the director of TRON: Legacy and the producer of Rise of the Planet of the Apes. On a spectacular future Earth that has evolved beyond recognition, one mans confrontation with the past will lead him on a journey of redemption and discovery as he battles to save mankind.
Jack Harper (Cruise) is one of the last few drone repairmen stationed on Earth. Part of a massive operation to extract vital resources after decades of war with a terrifying threat known as the Scavs, Jacks mission is nearly complete.
Living in and patrolling the breathtaking skies from thousands of feet above, his soaring existence is brought crashing down when he rescues a beautiful stranger from a downed spacecraft. Her arrival triggers a chain of events that forces him to question everything he knows and puts the fate of humanity in his hands.