LEGO To Officially Release 'Back To The Future' Time Machine LEGO Sets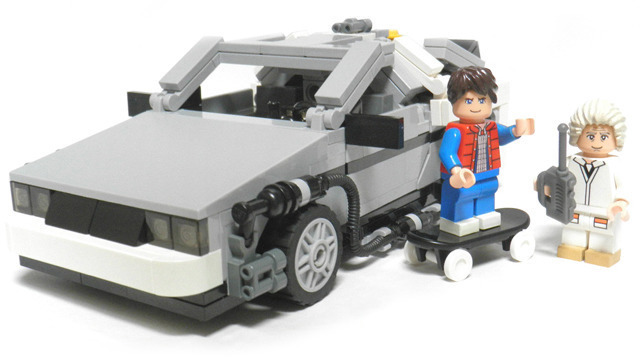 Almost thirty-years since its release and Back to the Future remains as popular as ever. Whether its Blu-ray box sets, Mondo posters or fan creations, we still can't get enough of Marty McFly, Doc Brown and that time-traveling Delorean.
On that note, today is a day to rejoice for all of those Back to the Future fans still clamoring for merchandise from the franchise. Lego has officially approved, and will produce, the above Back to the Future Delorean set created on their very-own Kickstarter-esque page, Lego Cuusoo. On that site, fans design and create Legos and once 10,000 other fans endorse it, it officially goes before the Lego review board. Thursday, Lego officially announced this set had been approved for 2013 release.
See the annoucnement video, video of the set, more photos and more after the jump.
Here's the video where Lego Cuusoo annoucned that Back to the Future won the quarter.
In case you didn't make it all the way through, one of the cool things about Lego Cuusoo is that the designer gets 1% of the profits from the designed sets, which is likely a pretty huge number. Team Back to the Future, lead by Mashahi Togami, has pledged to donate their 1% to the Michael J. Fox Foundation for Parkinson's Research. (Still, it's sad to see Zelda get beat.)
Since this was literally just announced, there's no release date or pricing yet, but the Lego Cuusoo blog says mid-2013 is a good bet. Plus, it'll be cost effective. Here is Lego's officially reasoning for picking the set:
After analyzing the supporters of the Back to the Future project, we learned that this product has a broad, worldwide appeal. The model presented in this project is built very closely to the LEGO Group's design standards and has therefore provided a strong base to design the final product. It has a high play value and it fits well with supporters' price expectations.
For these reasons, the Back to the Future project has passed the LEGO Review, and has been selected for production as the next LEGO CUUSOO set. The final product, pricing, and release dates are still being determined.
Here are some alternative views of the set, which is likely to have multiple modifications so it can be from any of the three movies. Head to the original Cuusoo page for additional information and photos or the team's official Facebook.
How awesome is that? Now I hope they remember this Hill Valley set and how that Delorean was even MORE detailed.
Source: Gizmodo