'The Heat' Red Band Trailer: Sandra Bullock And Melissa McCarthy Get Down And Dirty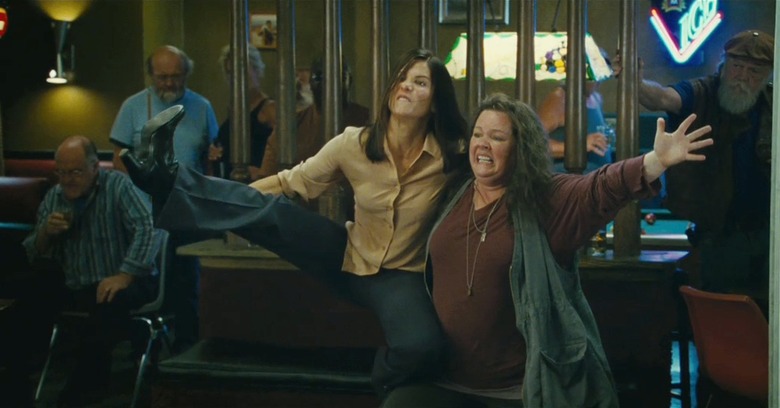 Not that there was ever any doubt Paul Feig's follow-up to hilarious and raunchy Bridesmaids would be hard R-rated, but the red-band trailer for The Heat makes it an absolute certainty. The female buddy-cop comedy starring Sandra Bullock and Melissa McCarthy opens April 5 and looks to be everything you'd expect from McCarthy and exactly what you wouldn't expect from the Oscar-winner Bullock. Unless, of course, you expected her to be throwing grenades and F-bombs everywhere in her next movie. Check out the red-band trailer, which also features Tom Wilson (Back to the Future) and Kaitlin Olson (It's Always Sunny in Philadelphia) after the jump.
Thanks to IGN for the embed.
Pretty funny stuff, though I usually find that comedy trailers either totally ruin a movie or completely undersell it. I'm hoping for the latter in this one, simply because the talent around it is so strong. Feig seems confident though, travelling to Butt-Numb-A-Thon last week to promote the film and everyone there was incredibly excited by what they saw. Here's hoping he can live up to his last film.
What did you think of the red-band trailer for The Heat?
Uptight and straight-laced, FBI Special Agent Sarah Ashburn (Sandra Bullock) is a methodical investigator with a reputation for excellence–and hyper-arrogance. Shannon Mullins (Melissa McCarthy), one of Boston P.D.'s "finest," is foul-mouthed and has a very short fuse, and uses her gut instinct and street smarts to catch the most elusive criminals. Neither has ever had a partner, or a friend for that matter. When these two wildly incompatible law officers join forces to bring down a ruthless drug lord, they become the last thing anyone expected: buddies. From Paul Feig, the director of "Bridesmaids."