Star Wars Bits: Episodes X-XII, George Lucas, Kathleen Kennedy, Timothy Zahn, Ewan McGregor, Samuel L. Jackson, 'Star Wars: Legacy', 'Star Wars: The Old Republic'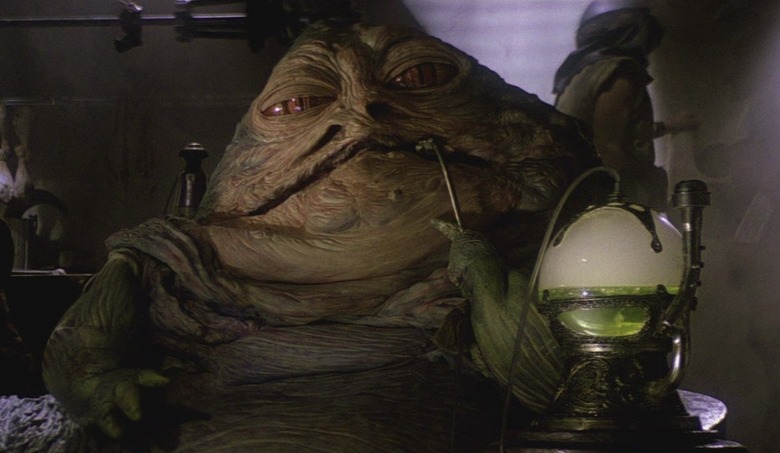 Episode VII isn't coming out for a few years yet, but 2013 promises lots of non-cinematic Star Wars releases, including a new comic book series, a novel by Timothy Zahn, and an expansion to The Old Republic. After the jump:
George Lucas once had plans for four Star Wars trilogies
Kathleen Kennedy teases an Episode VII update coming in January
Ewan McGregor wants to return, maybe as a hologram
Samuel L. Jackson is also willing to return as a ghost
Corinna Bechko and Gabriel Hardman talk Star Wars: Legacy
Timothy Zahn discusses his novel Scoundrels and Episode VII
Star Wars: The Old Republic is getting an expansion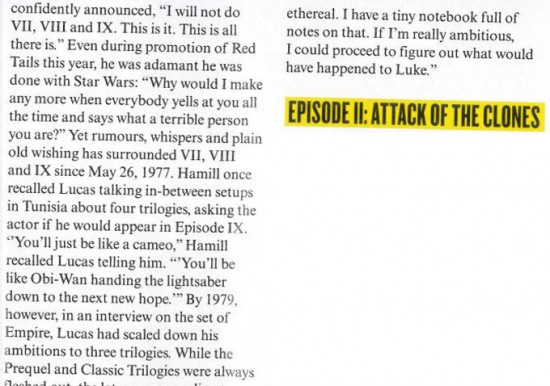 Of course, if Episodes VII-IX do well enough, you can bet X, XI, and XII will eventually make it to the theater as well. Who knows — Lucas could end up getting his original 12 films after all.
But first, Episode VII has to get made. Details have been pretty sparse so far, but Lucasfilm president Kathleen Kennedy reassured to ABC News Radio that progress is being made, with a planned spring start for pre-production. That should put it right on schedule for a 2015 bow, as previously announced.
Kennedy shied away from revealing too much in the conversation, but teased a bigger update for next month. "I have no immediate update, but hopefully in January I'll have something that I can say," she said. Since we already know that Will Arndt is at work on the script, could that mean we'll find out the director in the next few weeks? [TheForce.net]
Most of the world was taken by surprise when the Disney-Lucasfilm deal was announced in October, but it seems George Lucas did his colleagues the courtesy of giving them a heads up. "He let me know the night before that it was announced, which was nice," prequel trilogy star Ewan McGregor revealed.
McGregor also reaffirmed his willingness to reprise his role, though — considering the character died in the original trilogy — Obi-Wan likely wouldn't be in flesh-and-blood form. "I would (do it), I would," he said. "I can only imagine I would be a hologram-type person because Alec Guinness can't do it now." [Contact Music]
If indeed the holographic appearance comes to pass, Obi-Wan could be joined by another Jedi. Samuel L. Jackson had made no secret of his burning desire to return, even if it means Mace Windu losing a limb — or his life.
"I think the smart thing would be to introduce some familiar characters along with whatever new characters they want to bring into the franchise," he told MTV. "If nothing else, I think that Mace Windu could be an Obi-Wan Kenobi-type hologram."
Though, of course, he wouldn't mind staying alive, either. Jackson reminded HuffPo of the character's fate in Revenge of the Sith: "He could still be alive. He just went out the window. He's a Jedi! He could have landed on a ledge."
Moving onto news from the non-cinematic Star Wars universe...
Earlier this month, we learned that Corinna Bechko and Gabriel Hardman would be working on the relaunch of Star Wars: Legacy, a Dark Horse comic originally created by John Ostrander and Jan Duursema. Now a new interview reveals a few more details on their new series, which centers around descendant of Han Solo and Leia Organa.
Like Episode VII (we think), the comic books take place after Return of the Jedi. But Hardman says they're trying not to worry about that:
We have no idea of what's going to happen in the movies; we're just trying to tell an exciting story that would work no matter what. And the era that our story is set is likely well after what they would be dealing with in the movies anytime soon, no matter what.
Bechko and Hardman's Star Wars: Legacy hits shelves next year. Head to Comic Book Resources for the rest of the interview.
Also coming to bookstores next year is Star Wars: Scoundrels, a new novel by Timothy Zahn about Han, Chewie, and Lando on an Ocean's 11-style heist. a tricky heist. The author explains:
Well, you've got a bunch of scoundrels in the Star Wars universe. I've always enjoyed Ocean's 11 and The Sting. That kind of heist or con game where you don't have to worry about the participants stabbing each other in the back afterward. A nice frothy entertainment. And it just seemed like a natural for Han and Chewie and Lando and their crowd of like-minded people.
Zahn's probably best known among Star Wars geeks as the author of the Thrawn trilogy of novels, set just a few years after the events of Return of the Jedi. But with Episodes VII-IX now in the works, Zahn knows there's no guarantee his works will remain part of the official canon timeline. He does, however, have some ideas of his own about what he'd like to see from a new trilogy:
You got a couple of hours here? First of all, I think they need to skip a generation and have either Luke, Han, and Leia's kids, or even grandkids, and have the Original Trilogy characters be the older, wiser mentor types. But one of the things I'd really like to see, and this would fit very nicely with Disney, as far as I can remember we've never seen a really good family relationship in Star Wars. We've had neurotic relationships and even outright antagonism with Luke and Vader. But I'd like to see Luke and his son or grandson have a true bond, a functional family relationship. And of course I want a really good storyline and space battles. I'd like to see something different than a Skywalker turning to the Dark Side. The Star Wars universe is so rich with storytelling possibilities that you don't need to repeat the "turning to the Dark Side" concept of the previous films. I don't want to see the same stuff over and over.
Scoundrels goes on sale January 1. Skip over to Hollywood.com for the rest of the interview.
Finally, there's some good news for those who prefer their Star Wars adventures in video game form. BioWare's Star Wars: The Old Republic is celebrating its one-year anniversary with the announcement of its first full expansion pack, called Rise of the Hutt Cartel. The expansion will take players to the planet of Makeb, where they'll fight the power-hungry Hutts.
Rise of the Hutt Cartel won't debut until spring, but the official website is already taking pre-orders for $19.99 a pop ($9.99 if you're a subscriber). As an added bonus, players who pre-order before January 7 will get five days of early access. Go to the official website to purchase now or get more info. [Crave Online]