Superhero Bits: Logan, The Wolverine, Arrow, The Dark Knight Rises, The Punisher, Dredd, Iron Man 3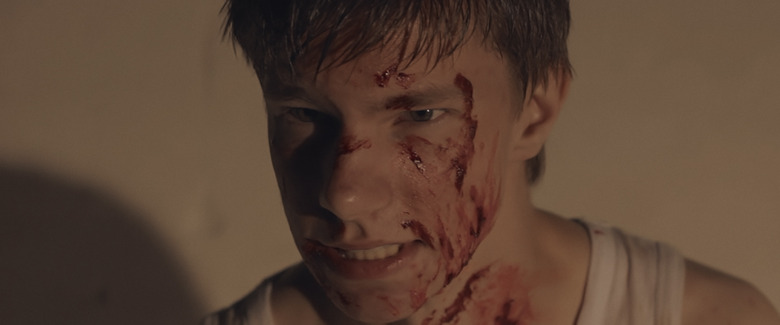 Want to see the world premiere of the brand new, Wolverine-inspired, short film Logan (pictured above)? Why is President Obama hanging with Spider-Man? When will Marvel's S.H.I.E.L.D. premiere? Which Battlestar Galactica star is joining Arrow? How did Christopher McQuarrie's Wolverine film differ from James Mangold's? Was a superhero movie top movie from 2012 from IMDB readers? Is a Punisher fan film the best Punisher movie to date? Where can you buy some near-mint, vintage Captain America trading cards? Read about all this and more in today's Superhero Bits.
LOGAN from Andreas Climent on Vimeo.
We're proud to debut the above short film, Logan, directed by Andreas Climent and André Hedetoft. In it two men take a man hostage but have no idea what they've gotten themselves into. For much, much more on the film and filmmakers head to www.loganshort.com.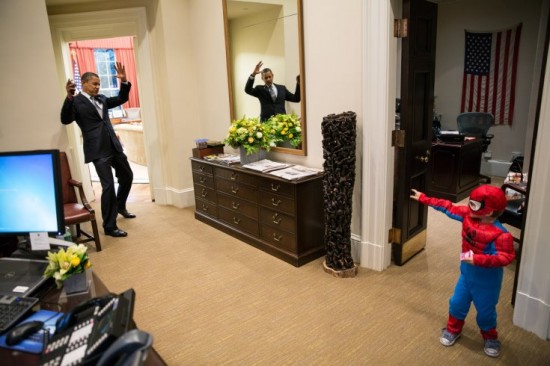 President Obama's Facebook shared this photo today. "President Obama gets caught in Spider-Man's web."
Still searching for that perfect gift for the Avengers fan on your list? GeekAlerts points us to a sweet collection of vintage Captain America trading cards. Near Mint!
/Film reader Frank S. did this fan edit of the Dark Knight Trilogy.
Another cool superhero gift via GeekAlerts: a Dark Knight Rises throw blanket with sleeves.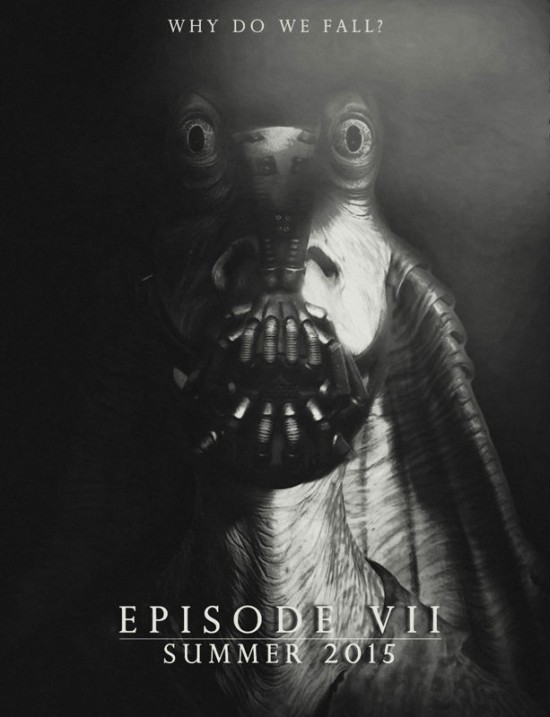 /Film reader Ryan L sent us his idea of a Star Wars Episode VII poster.
Producer Jeph Loeb teased that Marvel's S.H.I.E.L.D. TV show will premiere in Fall 2013.
Due to the amount of graphics and images included in Superhero Bits, we have to split this post over THREE pages. Click the link above to continue to the second page of Superhero Bits.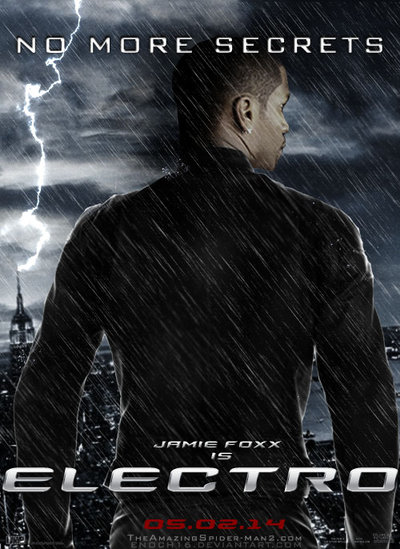 Society 6 user enoch16 created this fan poster for The Amazing Spider-Man 2.
Speaking to Screenrant, Christopher McQuarrie talked about his original script for The Wolverine and wanting to do more superhero films:
You know, Bryan and I have talked about it a bunch of times – and in fact, right after I got back from shooting [Jack Reacher] I had a meeting with Tom Rothman – just a general meeting – and I said to Tom, 'You know what I'd really love to do, is I'd really love to flesh out the X-Men Universe for you. You have this great wealth of these Marvel characters, and the X-Men franchise has only focused on a small handful of them – there's many more.
Kyle Roberts (via Buzzfeed) recreated the X-Men 90s cartoon intro in stop-motion. And it's awesome.Mark Millar talked a bit about The Wolverine on his website (via Superhero Hype), he also talked Best Movies of 2012:
Looking forward to: In 2013? Kick-Ass 2. There can be only one. Also buzzed about Superman and – the big surprise, I think – The Wolverine. The script is amazing and Mangold is such a brilliant director. Seen the first 10 mins and it looks like David Lean doing a superhero movie. This the one that's going to surprise people. This and First Class were Year Zero for the Fox Marvel movies as far as I'm concerned.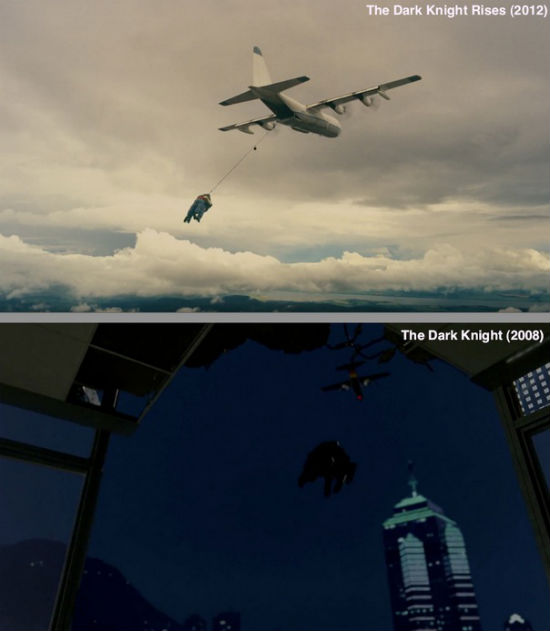 @MatteoWilliams created a huge visual comparison between The Dark Knight and The Dark Knight Rises. You can see the full thing here but above is one of dozens of visual mirrors between the two films.
According to Comics Alliance, ComiXology is the #3 earning app on iPad for 2012.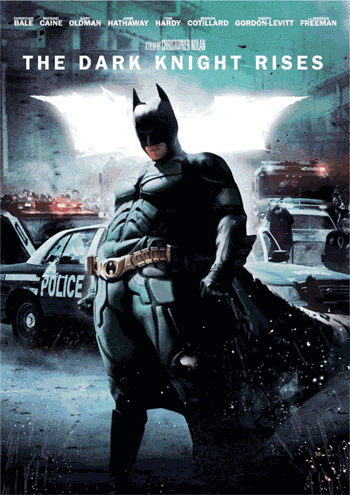 robinbrindleanimation (via Nerd Approved) created this hilarious Dark Knight Rises GIF.
IMDB users named The Dark Knight Rises the #1 film of the year.
Due to the amount of graphics and images included in Superhero Bits, we have to split this post over THREE pages. Click the link above to continue to the third page of Superhero Bits.
Superhero Hype posted the Blu-ray trailer for Dredd, which'll be out January 8. If you missed it, check it out.Newsarama reports that DC Comics no longer owns the rights to The Spirit, Doc Savage and The Avenger.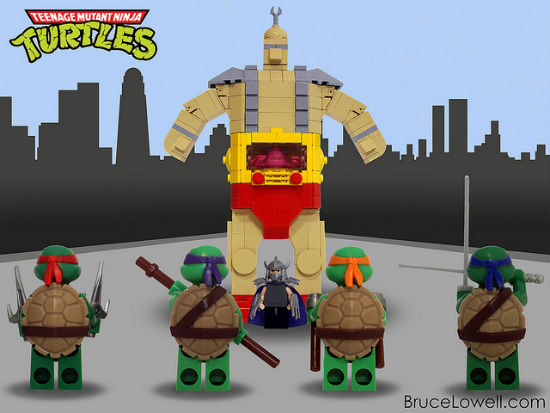 LEGO artist Bruce Lowell (via Laughing Squid) created a vessel for Krang out of Legos. Too Cool.
TV Guide reports that Battlestar Galactica actor James Callis will be joining Arrow.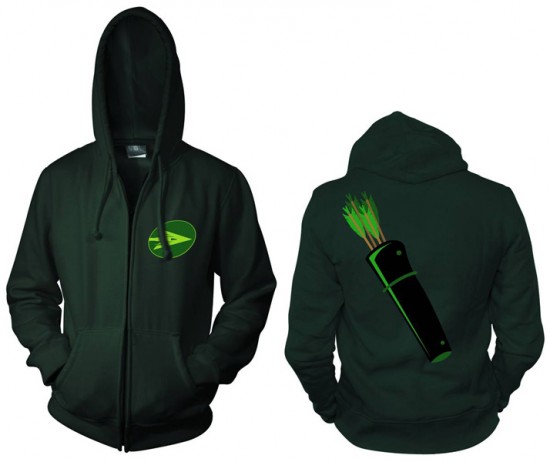 Urban Collector (via Fashionably Geek) is selling this clever, cool, Arrow hoodie.
This animated Punisher film by animator Luis Pelayo Junquera is great. Thanks to Digital Trends via Comic Book Movie.
Composer Brian Tyler spoke to 8Dio (via CBM) about his work on Iron Man 3.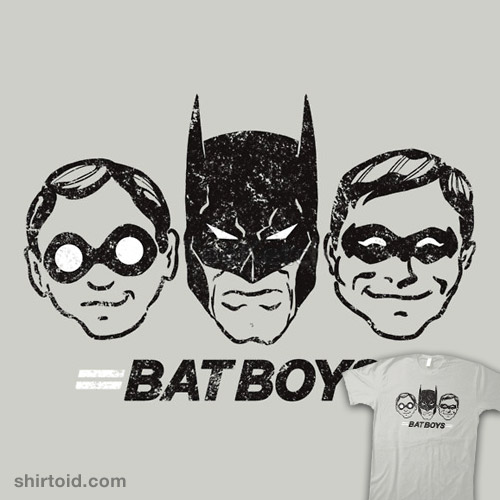 Not the Pep Boys, the Bat Boys, get it? Thanks to Red Bubble via Shirtoid.
THE FINAL BIT IS PROBABLY NOT, BUT MIGHT BE, A SPOILER FOR IRON MAN 3.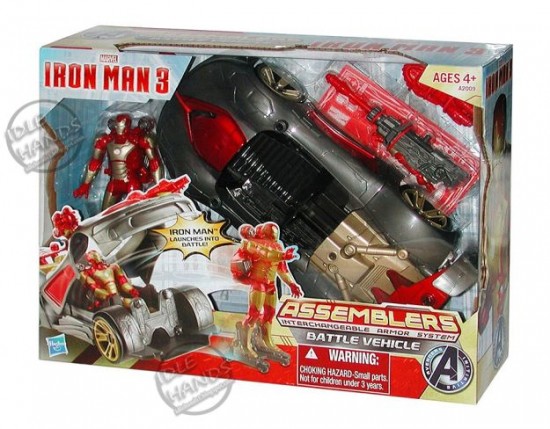 Idle Hands (via Superhero Hype) found a bunch of Iron Man 3 toy images, including this one featuring which could be Tony Stark's new car. I sincerely doubt he shoots out the front like in this toy but, if he does, spoiler. Head there for more.