Tobey Maguire's Nick And Elizabeth Debicki's Jordan Take The Spotlight In New 'The Great Gatsby' Character Posters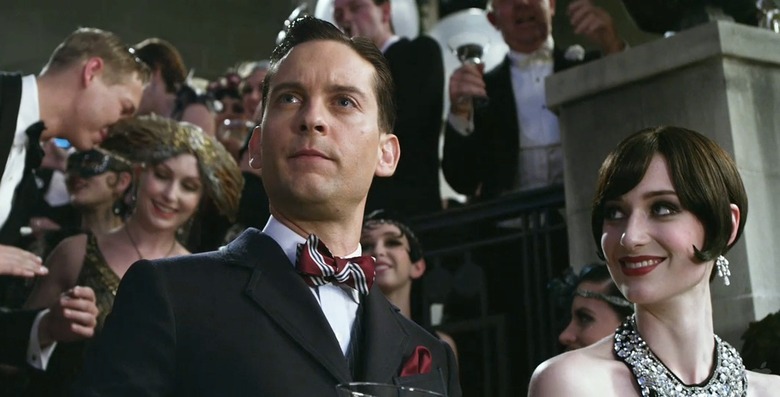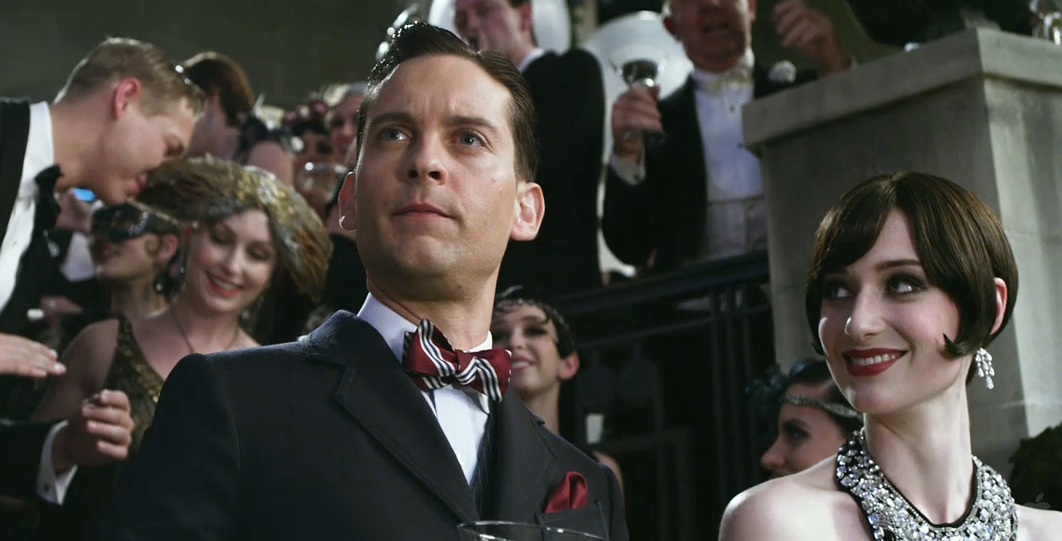 Only time will tell how Baz Luhrmann's ostentatious modern sensibilities will mesh with F. Scott Fitzgerald's Jazz Age classic The Great Gatsby, but if nothing else, the film seems to have the characters down pat.
Yesterday, we got posters for two key figures from The Great Gatsby: Tom Buchanan (Joel Edgerton) and Myrtle Wilson (Isla Fisher). Today, Warner Bros. has revealed two more, of narrator Nick Carraway (Tobey Maguire) and Jordan Baker (Elizabeth Debicki). Check them out after the jump.
[via Cinema Blend]
Although Nick and Jordan are paired as romantic interests in the story, the posters emphasize their differences. She's decked out in opulent diamond jewelry and striking a sultry pose, while he looks sharp but ever so proper in his brown herringbone suit. Seems about right.
If Debicki's name fails to ring a bell, that's because she's brand-new on the scene. The Aussie actress won the part straight out of the Victorian College of the Arts last year, and her only other IMDb credit to date is an Australian-British comedy called A Few Best Men. Jordan isn't as central to the Gatsby narrative as her pals Nick and Daisy (Carey Mulligan) are, but the role should still be enough to give the unknown actress a big career boost.
No doubt this means posters for Daisy and Jay Gatsby himself (Leonardo DiCaprio) are also on their way, although we aren't sure exactly when we'll get to view them. We do know when we'll be able to see the movie, though: May 10, 2013.
From the uniquely imaginative mind of writer/producer/director Baz Luhrmann comes the new big screen adaptation of F. Scott Fitzgerald's novel, The Great Gatsby. The filmmaker will create his own distinctive visual interpretation of the classic story, bringing the period to life in a way that has never been seen before, in a film starring Leonardo DiCaprio in the title role. "The Great Gatsby" follows Fitzgerald-like, would-be writer Nick Carraway as he leaves the Midwest and comes to New York City in the spring of 1922, an era of loosening morals, glittering jazz and bootleg kings. Chasing his own American Dream, Nick lands next door to a mysterious, party-giving millionaire, Jay Gatsby, and across the bay from his cousin, Daisy, and her philandering, blue-blooded husband, Tom Buchanan. It is thus that Nick is drawn into the captivating world of the super-rich, their illusions, loves and deceits. As Nick bears witness, within and without the world he inhabits, he pens a tale of impossible love, incorruptible dreams and high-octane tragedy, and holds a mirror to our own modern times and struggles.