'Storage 24' Red-Band Trailer: Ugly Alien Attacks Pretty Londoners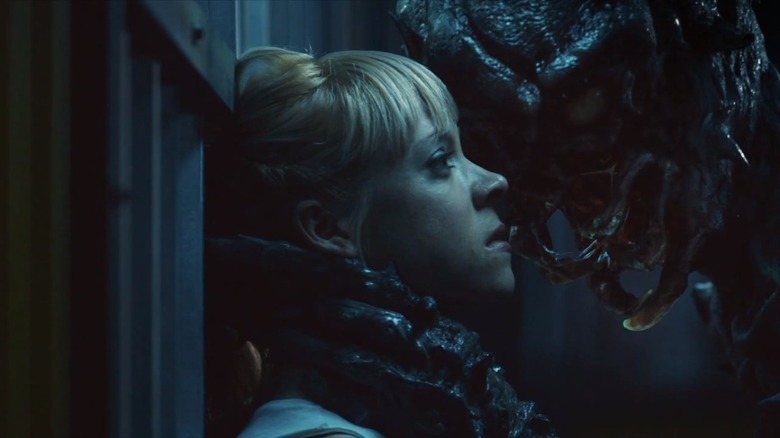 The trailers for Storage 24 get better each time. The one released earlier this month was a vast improvement over the generic-looking one we got this summer, and now a red-band version has come along to further up the ante through the power of blood and gore.
The Brit horror flick centers around four attractive young people (Noel Clarke, Antonia Campbell-Hughes, Colin O'Donoghue, and Laura Haddock) stuck in a storage facility when a military plane crash wreaks havoc on the city's systems. What starts as a minor annoyance becomes a life-or-death situation, however, when they realize that a nasty alien creature is trapped inside with them. Watch the NSFW trailer after the jump.
[via io9]
Where some horror movies de-emphasize creature effects by showing the monster as little as possible (a trick used to excellent effect in classics such as Jaws and Alien), that's obviously not the case with Storage 24. We get multiple shots of the disgusting monster, including a glimpse of it tearing a guy's innards out. For the truly gore-loving among us, there are even some half-eaten bodies strewn about.
If anything, the trailer may actually show too much of the creature. Hopefully this isn't one of those movies that shows off so much of the good stuff  in the trailer that there's none left to look forward to in the actual movie. Or worse, one in which the alien overstays its welcome and becomes less effective the more we see of it.
Directed by Johannes Roberts, Storage 24 is available on VOD now, or you can wait until January 11 to catch it in theaters.
London is in chaos. A military cargo plane has crashed leaving its highly classified contents strewn across the city. Completely unaware London is in lockdown, Charlie (Noel Clarke) and Shelley (Antonia Campbell-Hughes), accompanied by best friends Mark (Colin O'Donoghue) and Nikki (Laura Haddock), are at Storage 24 dividing up their possessions after a recent break-up. Suddenly, the power goes off. Trapped in a dark maze of endless corridors, a mystery predator is hunting them one by one. In a place designed to keep things in, how do you get out?