Nick Fury Won't Get His Own Movie, But Look For His Story In 'Captain America: The Winter Soldier'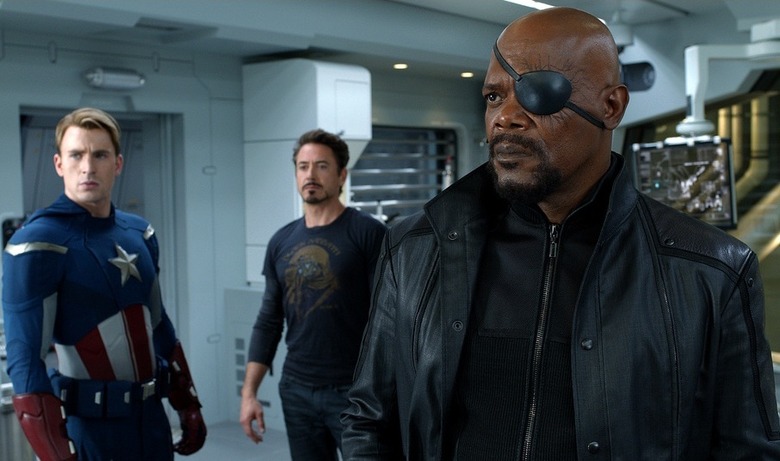 Nick Fury is one of the more prominent characters in the Marvel Cinematic Universe, having appeared in five out of the six titles to date. Yet he's never actually appeared in his own standalone film. For a while, it seemed like a S.H.I.E.L.D. movie might be coming out after The Avengers, but as we've since learned, that project has since evolved into a TV series. So as of now, it looks like the closest thing to a Nick Fury movie we'll be getting is Captain America: The Winter Soldier.
In a new interview, Jackson touched upon his role in the Captain America sequel, and cast doubt on whether a Nick Fury-centric film is even necessary at this stage. Read his comments after the jump.
However, Jackson doesn't seem to think Fury needs his own film, at least as of yet. "I think a lot of people know [Fury's story]," he said. "I know him as something else because I've been alive longer than most of the fans that watch the movies so I know Nick Fury as the World War II veteran and all that stuff. It might be interesting to do one day but we find out little bits and pieces about Nick and we're going into Captain America 2 in late March."
His latest comments are a sharp contrast to remarks he made in 2010, when he claimed that a S.H.I.E.L.D. movie would be released "sometime after" The Avengers. Jackson hasn't definitively ruled out the possibility of a Nick Fury film, but it doesn't sound like there's one coming up anytime soon.
Moreover, The Playlist calls attention to earlier rumors that Nick Fury's story had been partially folded into Captain America: The Winter Soldier; Jackson's responses suggest that may in fact be the case. In addition to Fury, S.H.I.E.L.D. agent Maria Hill (Cobie Smulders) is also set to appear in Captain America: The Winter Soldier. There's no word yet on how or if the S.H.I.E.L.D. storyline in the movie will tie into the upcoming TV series.
Discuss: Are you disappointed Nick Fury won't be getting his own film?