First Image Of Daniel Radcliffe As Allen Ginsberg In 'Kill Your Darlings'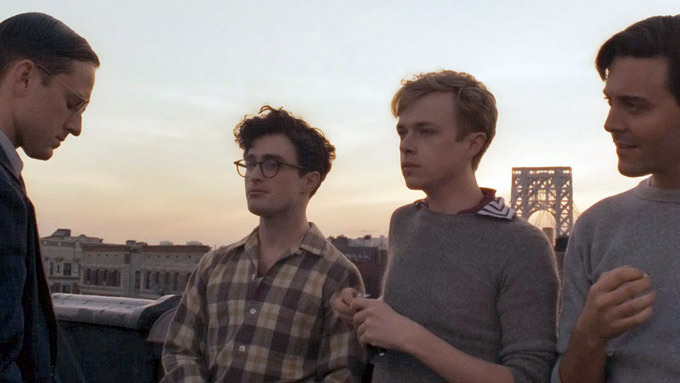 The image above comes straight from Sundance and is the first official look at the cast of Kill Your Darlings, which features a good crop of young actors as Beat Generation luminaries such as Allen Ginsberg and William S. Burroughs. Daniel Radcliffe plays Ginsberg and Ben Foster plays Burroughs; Jack Huston joins in as Jack Kerouac, and Dane DeHaan plays Lucien Carr, who introduced Ginsberg to Burroughs and Kerouac, and in so doing helped create one of the most notable writers' cliques of the century.
But a guy named David Kammerer (Michael C. Hall) was in love with Carr, and when Kammerer was found murdered, the group of friends was caught up in the investigation, and the young Ginsberg's coming of age is tainted by experience he would never have predicted.
A full synopsis for the film is below.
Kill Your Darlings premieres next month at Sundance.
While he is attending Columbia University in 1944, the young Allen Ginsberg's life is turned upside down when he sets eyes on Lucien Carr, an impossibly cool and boyishly handsome classmate. Carr opens Ginsberg up to a bohemian world and introduces him to William Burroughs and Jack Kerouac. Repelled by rules and conformity in both life andliterature, the four agree to tear down tradition and make something new, ultimately formulating the tenets of and giving birth to what became the Beat movement. On the outside, looking in, is David Kammerer, a man in his thirties desperately in love with Carr. When Kammerer is found dead, and Kerouac, Burroughs, and Carr are arrested in conjunction with the murder, the nascent artists' lives change forever.
Daniel Radcliffe fearlessly takes on the role of the young Ginsberg on a journey of discovery—to find his sexuality and his voice as a writer. Cowriter/director John Krokidas takes on this less-explored early chapter of the Beats and captures the period with visual flair, kinetic energy, and imagination. Kill Your Darlings is the riveting true story of a crime, a friendship, and the nexus that spawned a cultural movement.