The Original Django, Franco Nero, Attached To Star In 'Django Lives!'; Quentin Tarantino Explains The Django Legacy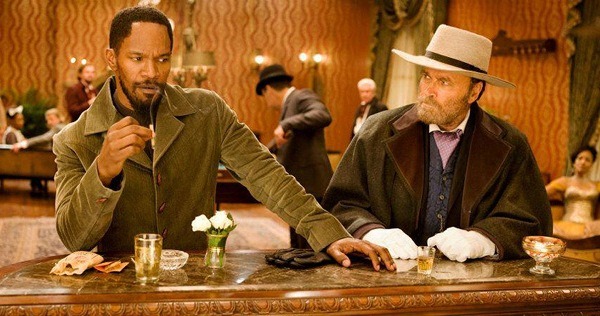 In 1966, the film Django became a European hit, eventually spawning a sequel (Django Strikes Again, 1987) but also inspiring a horde of imitators that used the the character name in various ways to get audience attention. The latest film in the long-running non-series is Quentin Tarantino's Django Unchained, which adopts the Django name to tell a story that is wholly unrelated to the original '66 film.
The original Django, Franco Nero, has a cameo in Tarantino's film (pictured above), but now he's poised to return to the role he made famous almost fifty years ago. Producers Eric Zaldivar and Mike Malloy have secured Nero's interest to star in a film provisionally titled Django Lives! In addition to info on that film, after the break you'll find a video interview with Tarantino in which he explains the Django lineage.
A press release announces the project and offers the plot idea for Django Lives!:
The story would have former gunslinger Django, in his twilight years, ending up as a silent-movie consultant in 1915 Hollywood and meeting an aspiring filmmaker with whom he reluctantly goes into business. When the filmmaker gets killed by racketeers, the young man's gambling debts are considered transferred to Django, who must now flee for safety to a small rural community. But that town's sharply divided inhabitants have their own problems, and Django becomes embroiled in a bloody conflict immediately upon arrival.
There's also mention that Noah Segan (Looper) could end up playing "a younger character with mysterious intentions who befriends the aging gunslinger."
Malloy had Nero's participationfor the documentary Eurocrime!, which chronicled Italian cop movies of the '70s — the films that followed the dominance of the spaghetti western. Malloy and Zaldivar were also behind the microbudget western The Scarlet Worm, and they'll employ that film's cinematographer, Michael A. Martinez, to shoot Django Lives! The producers hope to shoot the film in Utah, and are raising money now as they also work to fully secure the sequel rights for the official Django films.
For some more context on the whole Django series, here's Quentin Tarantino talking about the set of generally unrelated films: