TV Bits: American Horror Story, 30 Rock, Californication, The Killing, Hannibal, Doctor Who, Masters Of Sex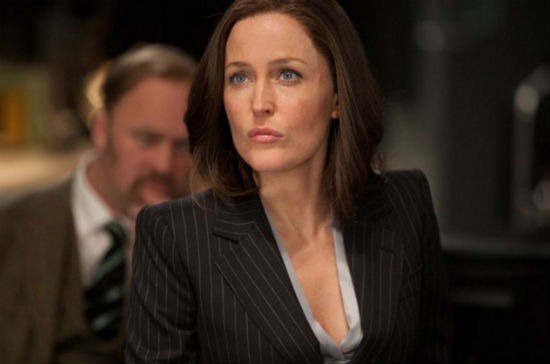 Lots of casting, first looks and more in this edition of TV Bits. After the jump find the following:
Your first look at Showtime's new shows Masters of Sex with Lizzy Caplan and Ray Donovan with Liev Schrieber.
Horrible Bosses director Seth Gordon will helm the pilot for the ABC 1980s family comedy How the F Am I Normal?
Jessica Lange will stay with American Horror Story unless Ryan Murphy "sinks the ship."
Meet the season six guest stars of Californication, including Maggie Grace.
Check out a photo from the final table read of 30 Rock.
Emmy winner Margo Martindale joins the cast of The Americans.
Billy Campbell is not returning to The Killing.
X-Files star Gillian Anderson joins Hannibal.
Watch the trailer for Doctor Who: The Snowmen, a Christmas special.
Showtime has been on a tear the last few years, shepherding some of TV's best shows. They'll look to continue that in 2013 with the new shows Masters of Sex, starring Lizzy Caplan and Michael Sheen, and Ray Donovan, starring Liev Schreiber. The AV Club has your first look at both.
Deadline reports ABC has handed out an early pilot order to a show written by Adam F. Goldberg called How the F Am I Normal which follows a young man growing up with a crazy but loving family in the 1980s. The pilot will be directed by Seth Gordon, best known for The King of Kong and Horrible Bosses. Apparently, the show was very hot when it was first pitched to networks so this is one to keep an eye on.
Jessica Lange has been one of the lead characters in both seasons of American Horror Story and has already signed up to return for a third. However, speaking to ScreenCrush, the actress said there is one way she wouldn't come back beyond that:
Unless we really sink the ship, I can't imagine that there would be something that Ryan [Murphy] came up with that I would not want to be involved with.
Back to Showtime for a minute, they posted this video highlighting the guest stars on the next season Californication, which starts January 13.
Dot Com himself, Kevin Brown, posted this photo of the 3o Rock cast doing their last table read ever.
30 Rock's final table read http://t.co/Z2G8cXmc

— Dotcomtheceo.com (@dotcom30rock) December 7, 2012
If you've been watching FX recently, you've seen commercials for The Americans, a new show premiering in January about KGB spies living in America. According to Deadline, Margo Martindale – who won an Emmy for her work on Justified – has just joined the show. It stars Keri Russell and Matthew Rhys.
Billy Campbell played an important part in the first two seasons of The Killing and probably thought he job was done once that show was cancelled. It has, of course, been resurrected though and Variety reports the actor will not be returning for the third season.
The popular co-star of The X-Files, Gillian Anderson, is making a return to genre television. She'll play the psychiatrist of Hannibal Lecter on the new NBC show Hannibal, set to premiere Spring 2013. Read showrunner Bryan Fuller's statement over at Entertainment Weekly.
Finally, thanks to Coming Soon, here's the trailer for the upcoming Doctor Who Christmas special, The Snowmen: