Sequel Bits: 'Expendables 3', 'Sin City 2', 'Transformers 4' , 'Wet Hot American Summer 2', 'Mad Max: Fury Road', 'Hangover 3', 'Star Trek Into Darkness', And More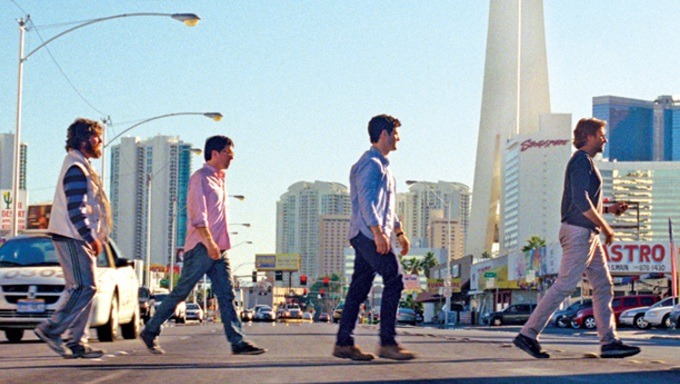 Wondering what sequelized delights await us in 2013 and beyond? After the jump:
Jackie Chan joins Expendables 3, wants to do Rush Hour 4
Dennis Haysbert talks about replacing Michael Clarke Duncan in Sin City 2
Mark Wahlberg calls Transformers 4 the most important role of his career
Michael Bay says that the "leaked" Transformers 4 script is a fake
David Wain is definitely still working on Wet Hot American Summer 2
Adam Green is excited to explore Victor Crowley's story in Hatchet III
J.J. Abrams has thoughts on the 3D conversion for Star Trek Into Darkness
George Miller's Mad Max: Fury Road has finished shooting
New images and plot details emerge for The Hangover Part 3
A still from Red 2 shows off some godawful outfits
Sly had invited me to be in Expendables 2 but I was too busy filming CZ12 and couldn't make a commitment to the film. But he did extend his invitation to the third movie, which I agreed on the condition that I will be appearing as more than just a minor role with a few scenes.
In addition, Chan expressed his desire to reteam with Chris Tucker for a project titled Skip Tracer... which, hint hint, could easily be reworked into Rush Hour 4.
The script is currently viewed by Chris Tucker. Personally, I feel that if he were to pick it up, it would be better if we turned it into 'Rush Hour 4,' but I do think that three movies for the franchise is a perfect ending. It would be better to start a new buddy movie with someone new.
Head to Coming Soon to read more.
As a replacement for the late Michael Clarke Duncan, Dennis Haysbert has some very big shoes to fill as Manute in Sin City: A Dame to Kill For. And he's working hard to make sure he's up to par. "I haven't finished working out to the capacity that I need to, but he's going to be different. This is playing as a prequel, so it should work out," he said in an interview.
Haysbert also spoke about the challenge of making the role his own while respecting Duncan's earlier work. "It's going to be my character, but I've spoken extensively with Frank Miller and Robert [Rodriguez] about what they want with the character and yes, it has to have some feel of what Michael did but I have to make it my own," he said. [SuperHeroHype]
Two-time Oscar nominee Mark Wahlberg has some pretty great films on his resume, but if you ask him, it's Transformers 4 that'll be his crowning achievement. Not only is it the "most challenging" part of his career, it's also the most significant.
I'm really excited about 'Transformers.' Michael Bay and I just did 'Pain & Gain' and we had such a good time making it. He came to me and said, 'I'm kind of doing a whole different reboot on 'Transformers.' Are you interested?' I said, 'Yeah, I'll do it!'. I loved the idea and I think we can make something really cool and kick-ass. This is not something where it's already established and I'm just in there to get a paycheck. I'm thinking this is the most important role of my career and I can do something really special.
And to think there was a time when it didn't seem like he'd be in the movie at all. Good thing Wahlberg's finally getting his big break! [SuperHeroHype]
Meanwhile, Wahlberg's Transformers 4 director Michael Bay would like fans to stop judging the "leaked" Transformers 4 script that's making the rounds — because, he says, it's competely and utterly fake:
Some Internet sites this morning reported that some document recovery guy has found a legitimate 120 page script of Transformers 4. I can absolutely 100 percent say this is completely false. The only two people in the world that have our unfinished script are Kruger and myself. Also we are only up to page 70 in our T4 script. Maybe this guy has a cartoon or something else – but definitely not our movie!
Wet Hot American Summer 2 is still a ways away from production, but director David Wain is still determined to make it happen. "It is slowly but surely in the process of being made," Wain said. "I would say we have more than a few pages [of the script completed]."
Wain seemed to understand that fans were getting impatient with the apparent lack of progress. "Seriously, we're doing it," Wain continued. "I know everyone wants to know. I'm flattered and thrilled, but the creative process has its own time schedule." In the meantime, comedy nerds can look forward to Wain and WHAS co-writer Michael Showalter's They Came Together, due out in 2014. [Laughspin via Reddit]
Adam Green won't be directing Hatchet III, but that hasn't diminished his excitement any. He's especially eager to pay off the plot threads he set up in I and II:
We knew what was going to happen in this one when we made the second one. After this one, I don't have it mapped out. I don't want to allude to anything more than that. If you think of the three movies as one movie, in my mind and in the cast and crew's minds, this one is the big climax. This one is much more of an action movie than the other two were, but it also does have a really great emotional arc for Marybeth (Danielle Harris) and Victor Crowley. I don't want to spoil anything more than that. It doesn't mean that there couldn't be more or that there won't be more, but as of right now, I'm not thinking about doing another one, at least not next year. Right now, I'm only looking at Hatchet III.
Click over to Collider to read the rest of the interview.
It's not surprising to hear that it was the studio's decision, not J.J. Abrams', to post-convert Star Trek Into Darkness into 3D. But Abrams insists he's had "a lot of fun" shooting with 3D in mind, and is looking forward to showing off the results:
3D was something that, frankly, I was not a big fan of to begin with. Essentially in order for us to make this movie, the studio said 'You gotta do this in 3D'. So we said, well, we can do a 2D version that we love that can also be converted to 3D. And the truth is that I've actually been having a lot of fun with it.
We have an amazing amount of creative freedom, doing the 3D in post[-production]. This is kind of the myth, that it only looks good if you shoot the movie in 3D, which is completely not true. In fact, we're doing a bunch of things with the 3D in this movie that have not been done before, using techniques that have not been seen. All the exterior shots, including the shots in space, are all either shot or rendered in IMAX format. It's the first time a movie has been shot in IMAX to this scale and converted to 3D.
Star Trek Into Darkness opens May 17. [Comic Book Movie]
It took a while to come together, but George Miller and Tom Hardy's Mad Max: Fury Road has finally completed its six months of principal photography and is now entering post-production. It's an encouraging step for a film so plagued with troubles, we wondered for a while if it'd ever get made at all. [Twitch]
No doubt The Hangover Part III will see the wolf pack suffering their fair share of trials and tribulations, but everyone looks pretty happy in the first official stills posted on EW. The first shows the gang crossing the Las Vegas Strip, Abbey Road-style, while the second shows a smug-looking Chow (Ken Jeong) in a sheriff uniform.
Director Todd Phillips confirmed to the magazine what we'd already guessed. "The Hangover Part III is Alan's story," he said. "He's going through a crisis after the death of his father, [and] the Wolfpack is all he has." In the meantime, fan favorite villain Chow will be going "darker than ever." Part III is "a fitting end to this three-part opera of mayhem and bad decisions," Phillips added. The Hangover Part III hits theaters May 24.
[via The Playlist]
EW also had a new image from Red 2, the sequel to the geriatric actioner from 2010. In it, Mary-Louise Parker, Bruce Willis, and John Malkovich are calmly walking away from a dangerous trash can fire. But what really worries me is their outfits. What the hell is Malkovich wearing? And why is Parker dressed like a junior in high school?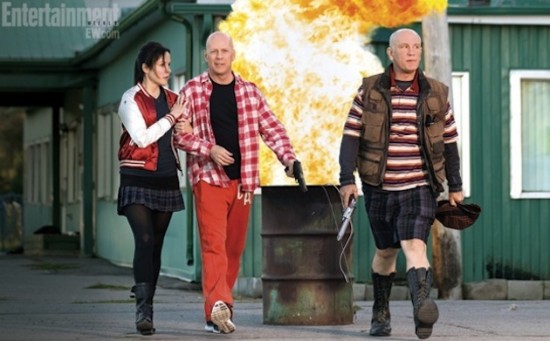 Red 2 opens August 2. [via Screen Crush]