Ricky Gervais In Talks To Star In 'The Muppets' Sequel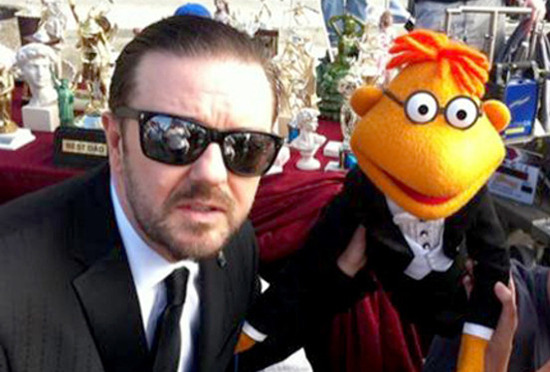 The European-set sequel to The Muppets has traded out Christoph Waltz for Ty Burrell, and now the film has added another TV comedy talent. Ricky Gervais is in talks for a major role in the film. He'll be the lead, in fact — or at least the "lead human." That's a necessary distinction when talking about a Muppet movie.
For those who love classic Gervais work such as the office, but aren't always wild about the tenor of his more recent stuff, this could be a pleasant bit of news. (Presumably, this won't be a big Muppet-decorated comedy about atheism.) In fact, Gervais is noted as a fan of the characters, making him an appropriate successor to Jason Segel, the fan who last starred in a Muppet movie.
THR reports that there are three primary human roles in the sequel, with Ty Burrell's "lazy Interpol inspector" being one of them.
We don't know the nature of the role Gervais will play, or whether he'll get to sing (or be forced to). The part is being compared to that played by Jason Segel in last year's The Muppets, though that's likely only with respect to screen time.
Gervais actually something more of a Muppet history than most actors, having appeared on Sesame Street in segments with Elmo and Grover. He also did a live appearance with Elmo, singing 'New York, New York.' He has also enthused about the Muppet films in the past. In fact, Gervais shot a cameo for The Muppets, but it was mostly cut, leaving just a glimpse of the actor in the big musical number at the end.
The sequel doesn't have a publicly-announced title at this point, but The Muppets producers David Hoberman and Todd Lieberman are back at work producing, while James Bobin is directing once more, and has scripted with Nicholas Stoller. Bret McKenzie, who wrote songs for the last film, is writing more musical material for the sequel.