Vin Diesel Will Be 'Kojak,' From Bond Screenwriters Neal Purvis And Robert Wade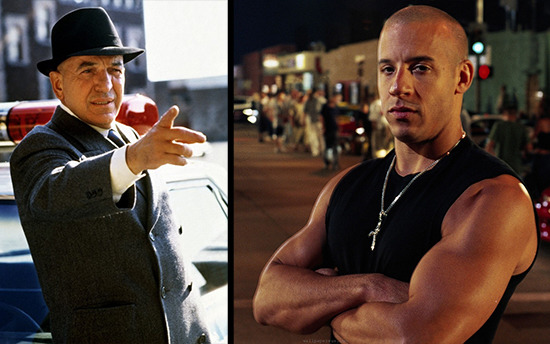 Kojak was a big presence on TV in the '70s, with Telly Savalas starring as the title detective from '73 to '78. Savalas anchored the show with strength and a rakish charm, sucking on lollipops, spouting the catchphrase "Who loves ya, baby?," and solving crime in the middle of what might have been New York's worst decade for crime.
Now Kojak may be reborn as a film project, as Neal Purvis and Robert Wade, who worked on several James Bond scripts up to and including Skyfall, have been hired to write a feature version of the character. Given that Kojak's bald pate was among his most significant physical characteristics, it isn't much of a surprise to hear that Vin Diesel has been attached to play the role.
Deadline says that Purvis & Wafe will "re-imagine and con temporize" Kojak, though what they'll have to do to make that happen isn't clear. New York is now a very different place from the city inhabited by the '70s Kojak, but there's plenty of crime for Diesel to fight in the city regardless. Maybe he can go after people who illegally sell oversize soft drinks, if that wouldn't prove to be too much of a conflict with his own candy addiction.
Universal has been working slowly to develop Kojak for a while, though this is the biggest step taken towards making the film a reality. The studio also has a good thing going with Diesel, who has been a big part of the studio's perpetually-successful The Fast and the Furious series. Universal is also releasing the third Riddick film, which Diesel and David Twohy willed into being over the past couple years.